Want to learn how to rank higher on Google?
Of course you do!
Not too long ago I wrote an article titled 50 Growth Hacking Tools for Marketers At Startups.
Within next 14 days I ranked #3 on Google for my term: "growth hacking tool".
To date I've had 11,562 people read this article.
Every day around 300 people click over and read this article.
I get a ~20 people a day who become blog subscribers off this article.
What I did to get to this point is not black magic. I followed a proven technique Brian Dean outlined on his blog on how to rank higher on Google.
I promise you that if you follow the steps below you can achieve the exact same thing. Ready to roll? Ok, here are the steps I took to rank higher on Google:
Here is the outline of all the steps, feel free to click ahead if you like:
1. Find Link-Worthy Content Which Ranks High on Google
The first step to rank higher on Google is to find a piece of content in your domain of expertise that has already generated a ton of links.
Meaning this content is in top 5 search results on Google for your keyword. It should be a case that a lot of people are already searching for your chose keyword. It's also something you want to rank for.
Most of the time this content is so awesome that people really can't help themselves but add a link to this content.
(A short side note, my WordPress blog was hacked recently. These folks were trying to login to it and add a bunch of links to their websites. One thing I made sure of after the incident is to take these few steps to improve my WordPress security. I suggest you do the same.)
In my case I chose to go after the keyword "growth hacking tool". I wanted to rank in top 5 results for this keyword. Why?
I know growth hacking is a hot term and is gaining a LOT of popularity recently. Doing a bit of research I popped the term "Growth hacking" into Google Keyword Tool and saw the following search figures: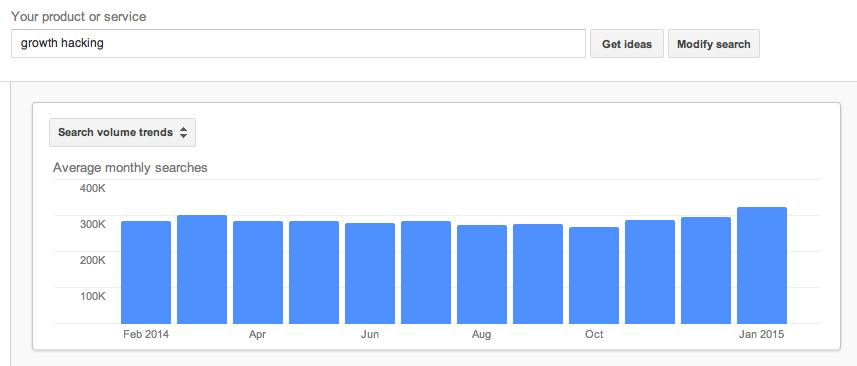 These numbers looked pretty good but the term itself is a bit too broad. People searching for it might simply want to find out about what the term means, or do competitive research.
I wanted to focus on people who would eventually use a growth hacking tool I'm building. These are types of people I want as my blog subscribers. So I focused on keyword "growth hacking tool". This had the right amount of volume and competition – crucial when you want to rank higher on Google.
When I googled "growth hacking tool" I saw the following top content for this term: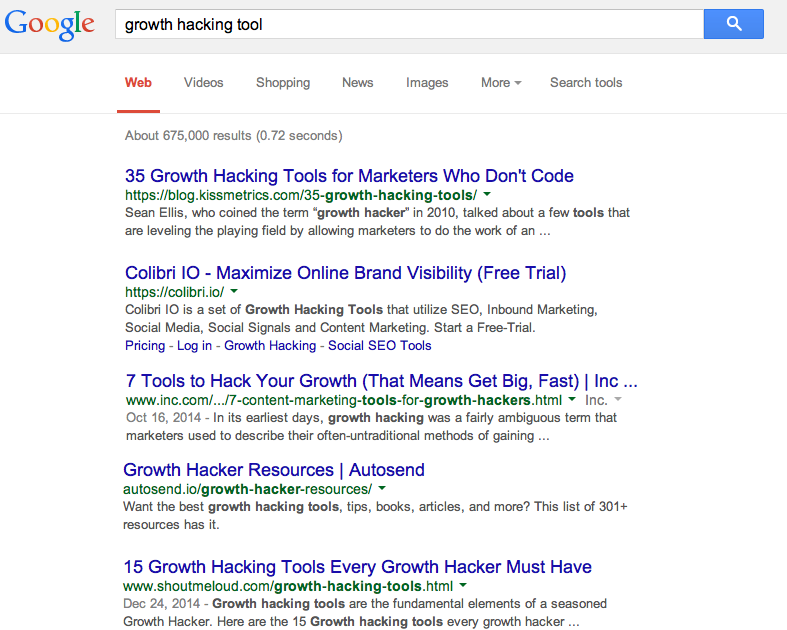 Kissmetrics blog, Inc magazine, these were legit big name websites who were authorities on this topic and keyword. They were at the top. I wanted to be right there next to them.
So here I was. I knew the type of content I needed to write for my next blog post. I had to write a better version of one of these articles if I wanted to rank higher on Google.


2. Rank Higher on Google: Write Something Better than Competitors
The next step is rather simple: write a much much much better version of what currently ranks high for the given keyword. In the words of Brian Dean:
Your next step is to take what's out there and blow it out of the water.
So how exactly do you make it better?
Make it longer – In my case I saw that there already was a post titled "35 Growth Hacking Tools". So I decided to make mine "50 Growth Hacking Tools". I think if I had more time I would go for "100 Growth Hacking Tools". This would for sure blow everyone out of the water.
More Up-To-Date – There is tons of content out there that is just plain old and out of date. Make your content most up to date out of all the ones you see above. Websites and blogs which look like they're from 2003 should not be outranking you on your keyword.
Better Designed – Plain and simple, your blog post needs to have a nice and clean design. A lot of times a visually stunning piece can generate a lot more links pointing to it.
Take a look at this post titled 20 Tips for Dramatically Better Emails. It's crazy long and comprehensive and just look at the snazzy table of contents it has which makes it very easy to read: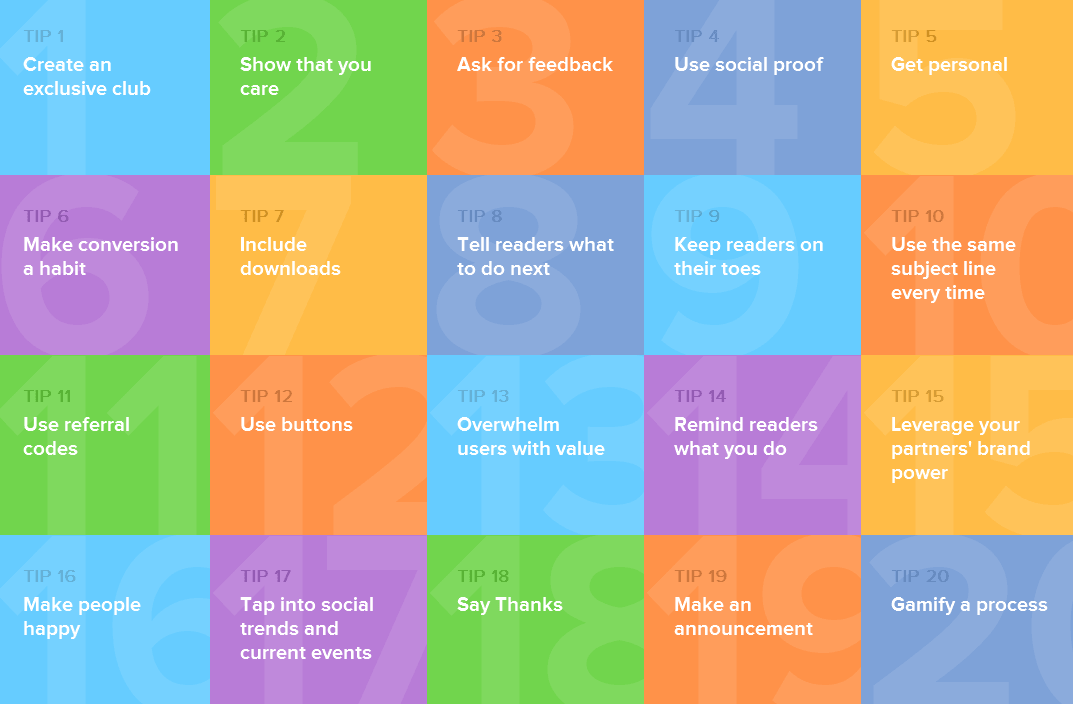 Compare this to this other article titled Email Marketing Best Practices: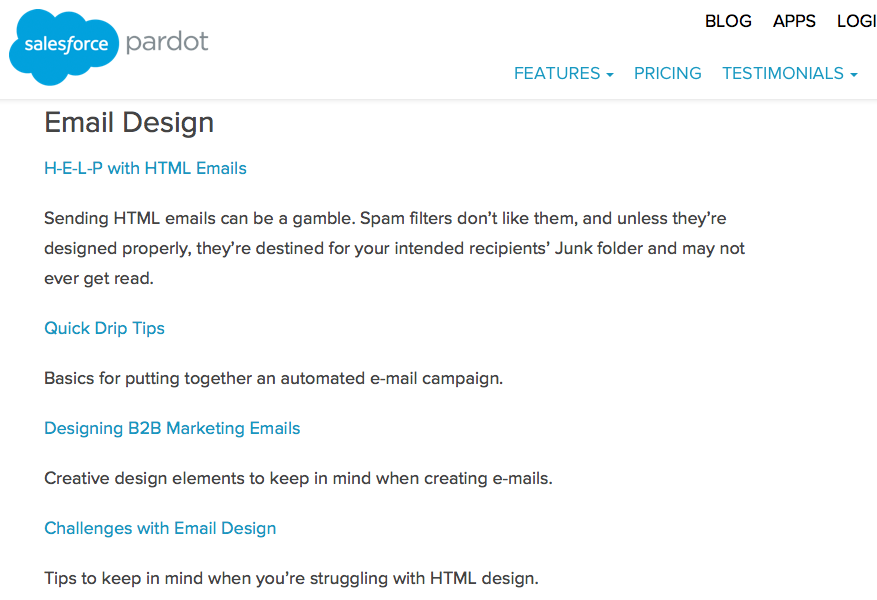 Night and day!
More Thorough – Take a look at the length of most of your competitor articles which re currently ranking in top 5 results . Then double the word count. I recommend at least 5000 words. Make it a behemoth of info if you want to rank higher on Google.
As an example take a look at this article on Inc 7 Tools to Hack Your Growth. Compare it against my article on the same topic 50 Growth Hacking Tools for Marketers At Startups.
Its important to nail all of these above. Brian notes that:
I recommend that you beat the existing content on every level: length, design, current information etc.This will make it objectively clear that YOU have the better piece of content.
Once you're happy with the article and had your friends and acquaintances proofread it go ahead and publish it.
One very important note. I used Yoast plugin for WordPress to double check and make sure I included the keyword I'm trying to rank for body of my blog post, title, headline, etc. The plugin tells me how my "keyword density" measures. Take a look: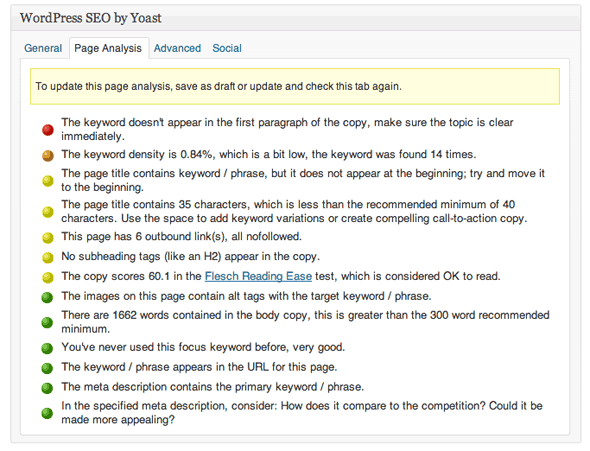 The plugin also tells me if there is anything else wrong SEO wise with my post. These are crucial considerations if you want to rank higher on Google: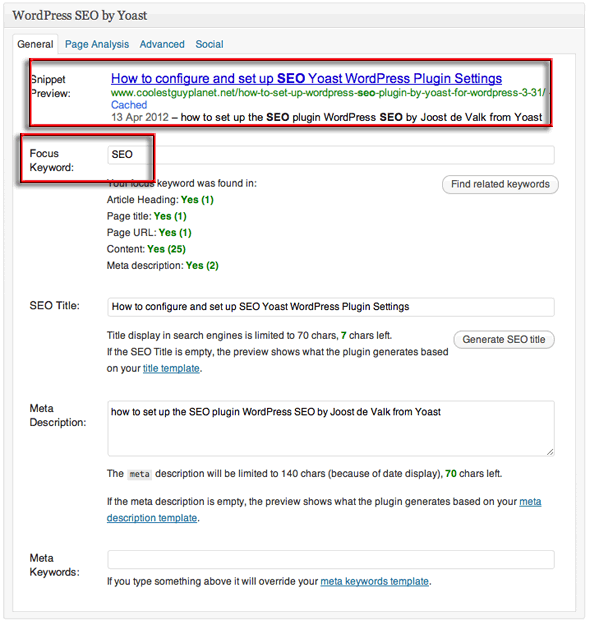 3. Reach Out to People Who Backlinked to original article ranking high for your keyword
Now that you have a better version of the same article live, it's time to find out who backlinked to the original article for your keyword.
So in my case I took the article 35 Growth Hacking Tools for Marketers Who Don't Code and put it into a backlink checker. One of my favorite to use is Open Link Profiler since it's free and allows you to sort the results by Link Influence Score.
So I put '35 Growth Hacking Tools' article into Open Link Profiler and sorted the results by Link Influence Score. I was looking for which high authority blogs and sites linked to this article. These are the people I was planning to ask for a link to my own article which I had just published: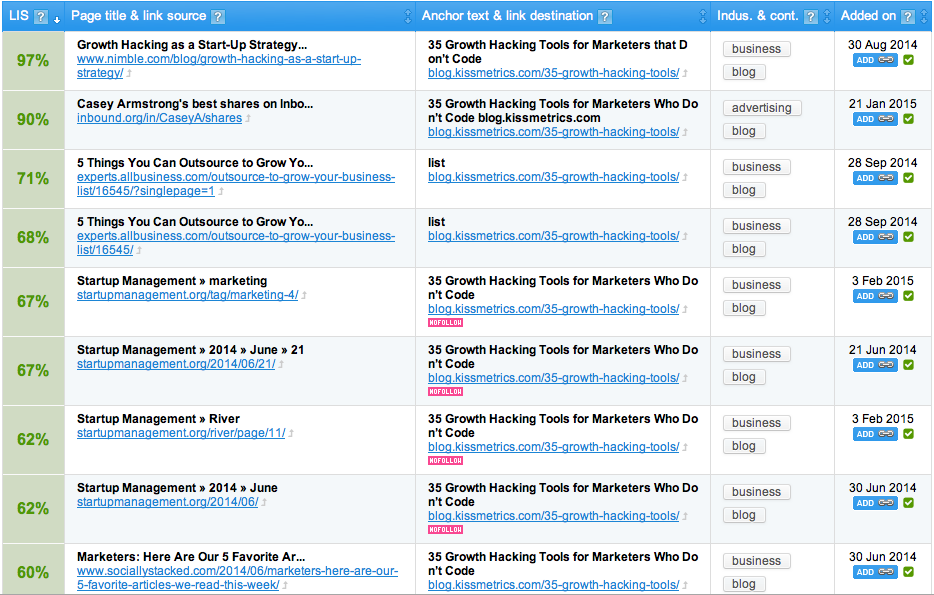 As I go through this list here is my approach to contacting the bloggers behind these sites to ask them to link to my article.
I see that this article titled: Here Are Our Five Favorite Articles Ee Read This Week links to the original 35 Growth Hacking Tools post. I scan through the article and then click on About section. Then I read a bit about the writers and owners of this site. I then scroll down to the footer and click Contact Us link.
Here is the email I use (inspired by Brian Dean's article of course):
Hey [Name],

I was searching for some articles about [Your topic] today and I came across this page: [URL[

I noticed that you linked to one of my favorite articles: [Article Title]

Just wanted to give you a heads up that I just wrote a similar one. It's like [Name of the article] but more thorough and up to date [URL].

Might be worth a mention on your page.

Either way, keep up the awesome work!

Cheers,

-Dmitry
On average I get 5%-10% of folks who I contact this way to link back to my article. In my case getting 10 links to my newly published article got me to rank higher on Google for "growth hacking tool" and "growth hacking tools".
Also remember that quality of the links is a HUGE factor. It's all about link quality and not quantity necessarily. Here is Brian Dean's note about quality:
Considering that these were cold emails that asked for a link in the first email, an 11% success rate is pretty amazing.

You may be thinking, "17 links, that's it?".

But remember it's about quality, not quantity.

There were a lot of gems in that group of 17 links, including a link from a DMOZ listed site on a PR5 page.

Besides, just look at the meteoric rise in organic traffic that those 17 links got me (in a very short time period, no less).

Obviously there were a few links to that page that came organically, but some of the best were from The Skyscraper Technique.
Now You Try it!
That is all there is to it. Determine a keyword you want to rank for. Then find the highest ranking articles for that keyword. Finally write a better version of the article and reach out to all backlinkers to link to your newly published piece.
It may seem like a LOT of work, which it is. But if you do this you already know ahead of time that your hard work is going to pay off.  You know that if you get all those backlinks you'll get to the top of Google.
Ready to try this yourself?
Click the link below to get access to a step by step checklist you can follow to implement the steps above to learn how to rank higher on Google.