When I started building JustReachOut almost a year ago I knew that my email list for my blog would be a big part of its success or failure. 🙂  At the time I only had 90 email subscribers to my blog but I saw that 60% of them were paying users of JustReachOut.
I knew I needed to grow my email list if I wanted to grow my revenue. I watched a webinar from Tim Paige on how they built LeadPages from 0 to 15,000 paying customers in 12 months and was hooked on the idea of replicating their efforts.
I listened to a lot more podcasts and webinars and read a LOT of blog posts. My email list did not grow much. I was procrastinating. I wasn't actually doing anything directly to grow my email list.
This was when I read a post by Bryan Harris which sprung me into action.
On Feb 1, 2015 I had 697 email subscribers for my blog and I wanted to have 10,000 by the end of the year. I contacted Bryan Harris of Videofruit and hired him to be my coach for a few months to help me achieve my goal.
(when you're paying someone to push you and hold you accountable for the goals you set you are much more driven)
I set a goal to have 2500 subscribers by March 31, 2015, here is my email to Bryan dated Feb 2, 2015 with this exact goal:

On March 31, 2015 I had close to 3000 subscribers.
In two months I grew my list from 700 to 3000 email subscribers and my traffic to 17,000 visitors: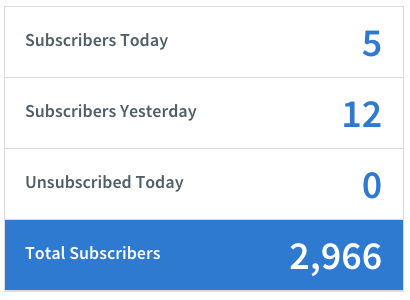 Here are all the methods I employed to accomplish growing my list from 700 to 3000 email subscribers in two months. Copy these ideas, they work! And check out my friend Noah's post on the BigCommerce Blog, where he shares even more tips on how to improve your campaigns and get more subscribers.
Method #1: Give Something Away in Return for an Email Address
The very idea of giving something away with every blog post I wrote seemed foreign to me at first before I realized that my readers want a quick summary of what they just read.
Listening to how LeadPages grew their business to 15K paying customers it was clear that people who read instructional blog posts such as mine want a PDF checklist or summary to follow along in implementing the steps.
I added the following call to action on every article on my blog above the fold (you saw this above, feel free to click it to see how it works):
I also added the very same call to action with the same pop up after Step #1 or around 25% through the blog post on every article as well and finally added a HUGE call to action with the same pop up at the very end of the article with the same gigantic button as Bryan Harris uses on his blog: