Ping-ping-ping
Hear that?
That's the sound of stale emails getting dropped into inboxes.
Boring, right?
Aaah! Ooooh! WOW!
And that?
That's the sound of people reading emails with kick-ass signatures!
Believe it or not:
Email signatures have become a crucial part of our content arsenal!
So now we have to ask ourselves:
Is my email signature compelling enough?
Well, I'm here to tell you:
After scoping out hundreds of sources and thousands of email signatures…
I compiled this fun guide that shows you 25 powerful email signatures and why they work.
You'll also learn where you can generate similar signatures for your own business.
So, don't lose out on opportunities because of a lackluster sign-off.
Follow these simple steps to rake in even more cash with just a few tweaks!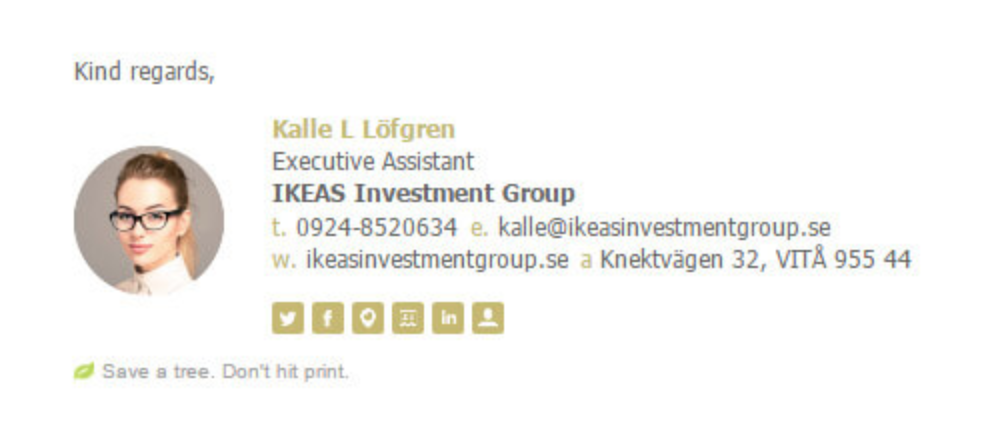 I think you'll agree with me that email signatures have come a long way.
Not that long ago, they were mostly plain text, like print on a boring white T-shirt.
Now?
They're swanky-cool, hip and functional.
And here's the best part…
You can use them to market yourself better and build even more respect for your brand.
All that with just a new email signature?
Yup!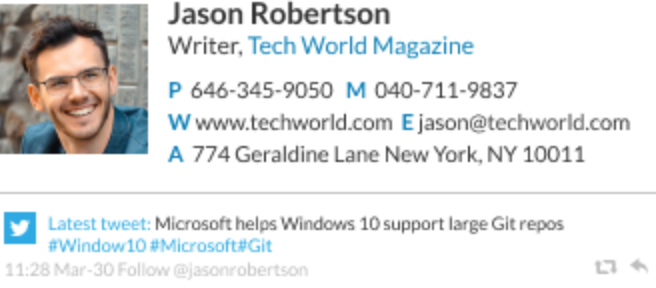 Achieving Email Nirvana
So ya tellin' me, after I've already got seventeen gazillion things crammed into my overstuffed head, in order to function effectively in today's market — ya tellin' me I need to get on this "Perfect Email Signature" bandwagon?
Like it's gonna mean something to me?
Yes!
Here's why:
The email signature is the most neglected
business opportunity in daily communications.
If you're an entrepreneur or small business owner, the wrong email signature could be costing you money.
You could be losing precious leads and even new sales.
Today, an effective email signature is an integral part of your branding and marketing.
It's a dynamic and virtual business card embedded in every message you send.
In today's post, I've teamed up with Bobby Kennedy of Robert Kennedy Studio to review a heap of terrific examples – and which one is best for you.
Perfect Examples
Over the Top (Animated)
Shop Owner
Jennifer, Jennifer, Jennifer. Biting into the chocolate? Yowie! Nearly as hot as her three animated gifs. Is your card itself edible?
Marketing Rep
Jed is bored, then frustrated, then pensive, then happy, then…?
See Jed and all his game faces. And note all his social media links: Jed is connected!
Software Developer
Michael shows off his flair for design while also gaining respect by showing off that he's licensed on Google Maps and indoor navigation software.
Standard Email Signatures
CEO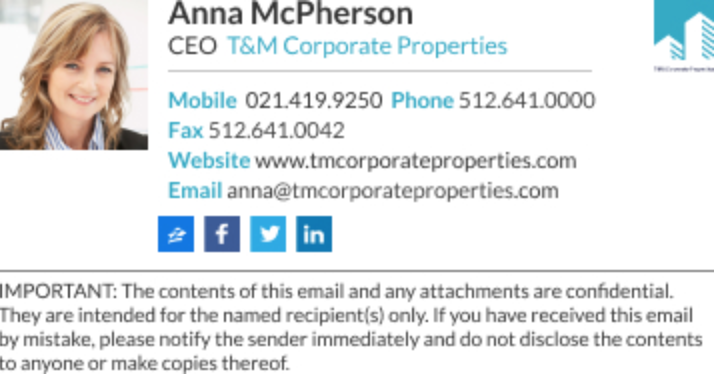 Anna shows off a human side with her warm smile. And her understated design evokes professionalism.
Animator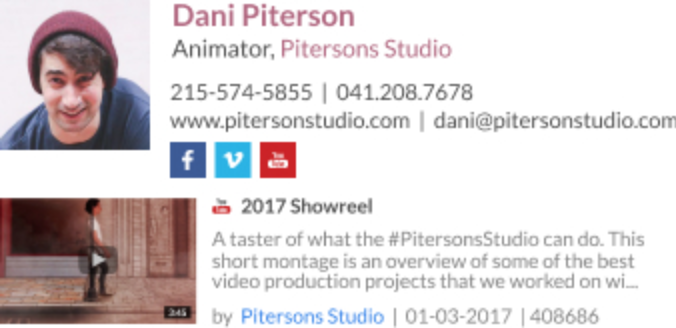 A professional video hooks Dani's readers. And the clip tells his brand's story with panache. Now THAT is genius.
Online Jeweler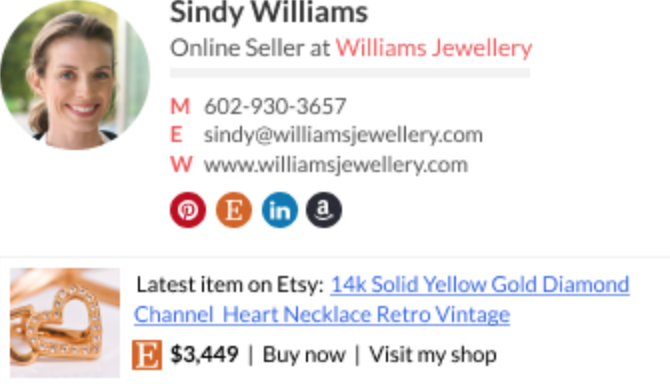 Sindy dazzles readers with her picture, and informs with price. She's selling you jewelry straight from your inbox.
Lawyer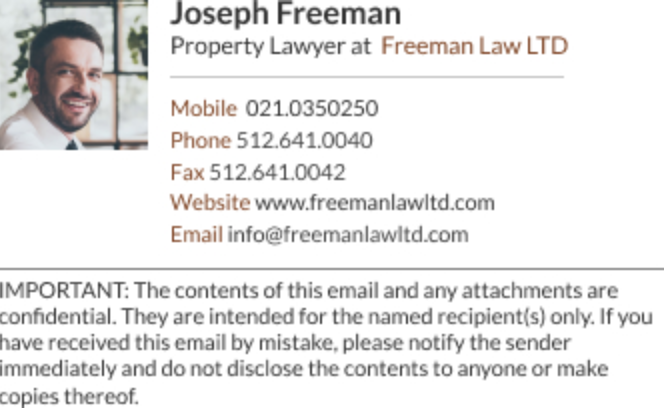 Joe's signature showing his smiling face likely helps him win new clients over.
Photographer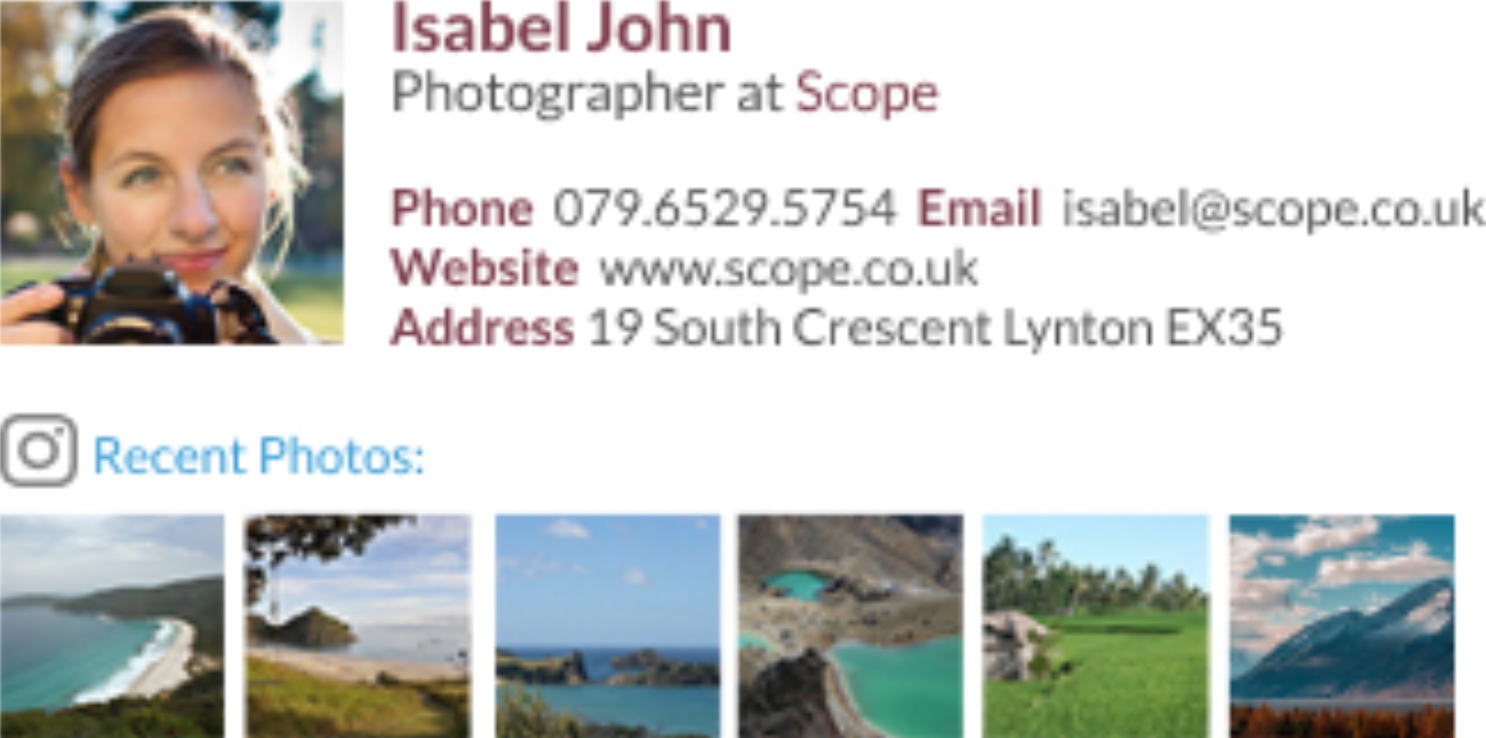 Isabel shows off snippets from her portfolio in her signature. Now that's efficient.
Author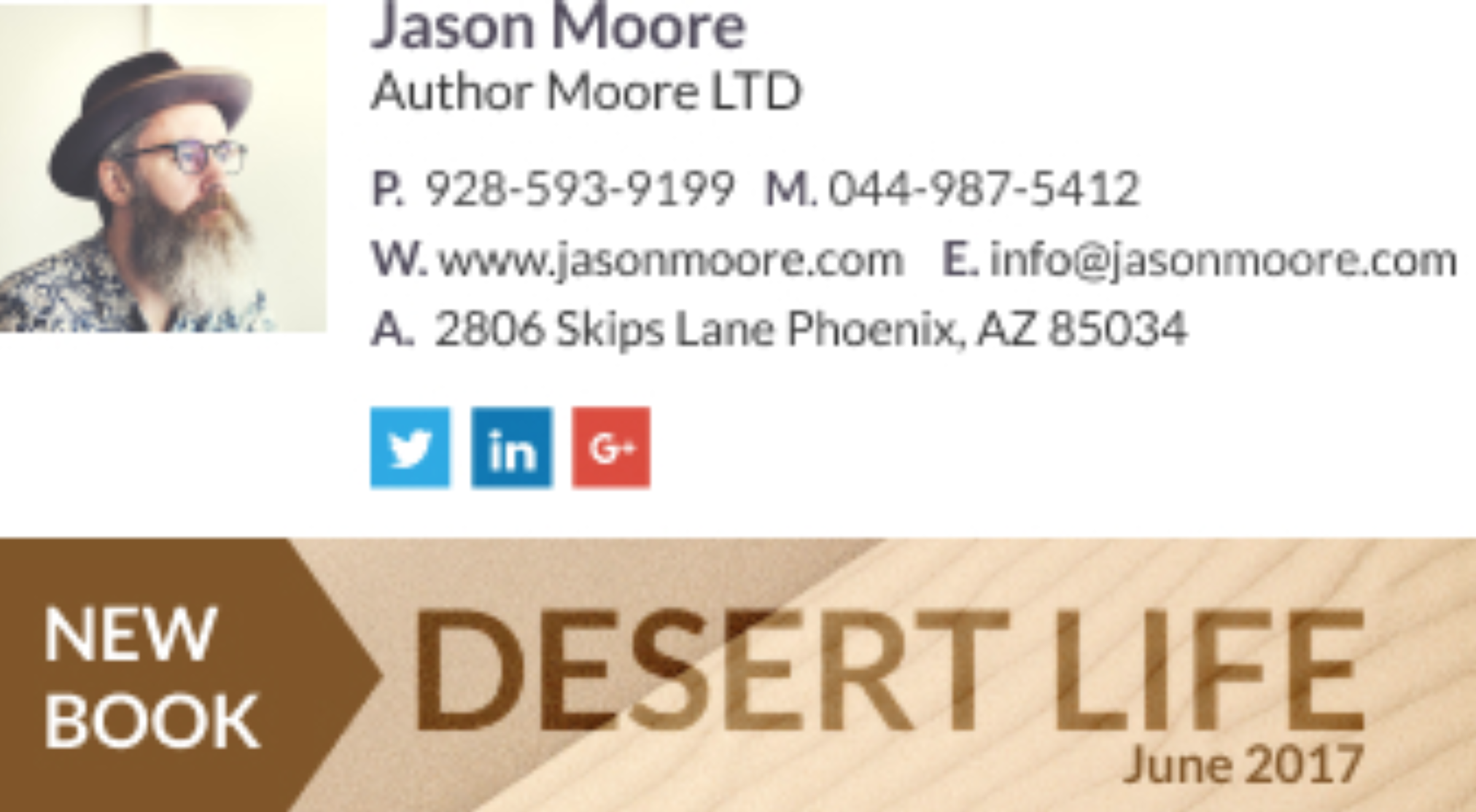 James is neither an Allen Ginsberg clone nor a "Beatnik." And he doesn't live in Williamsburg. But he is a heck of an author, with a new book out. You can't miss his banner!
Realtor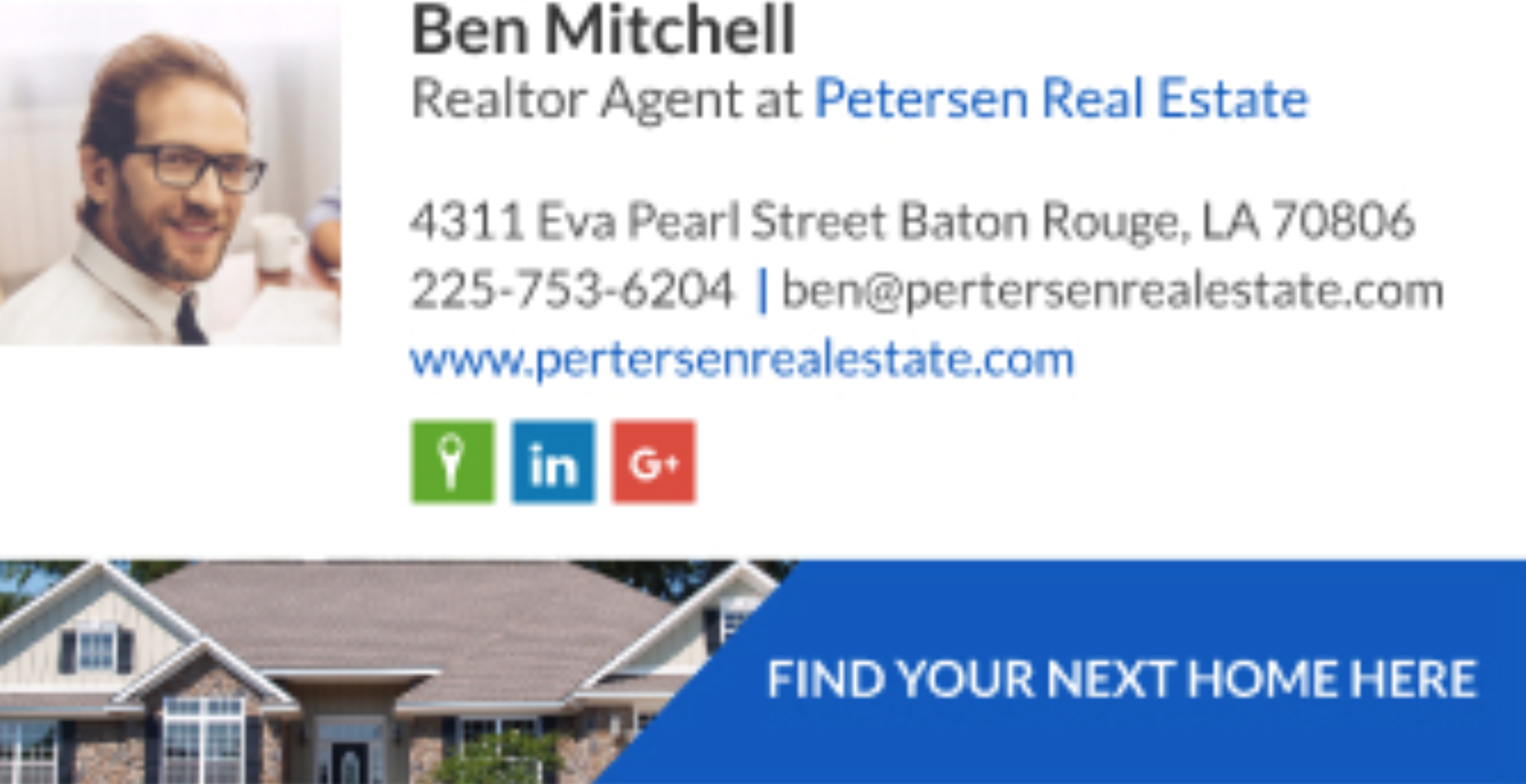 Ben is a top-rated Realtor for Petersen Real Estate. He likes these email signatures, but he wishes they'd update the banner (been ten years!).
Blogger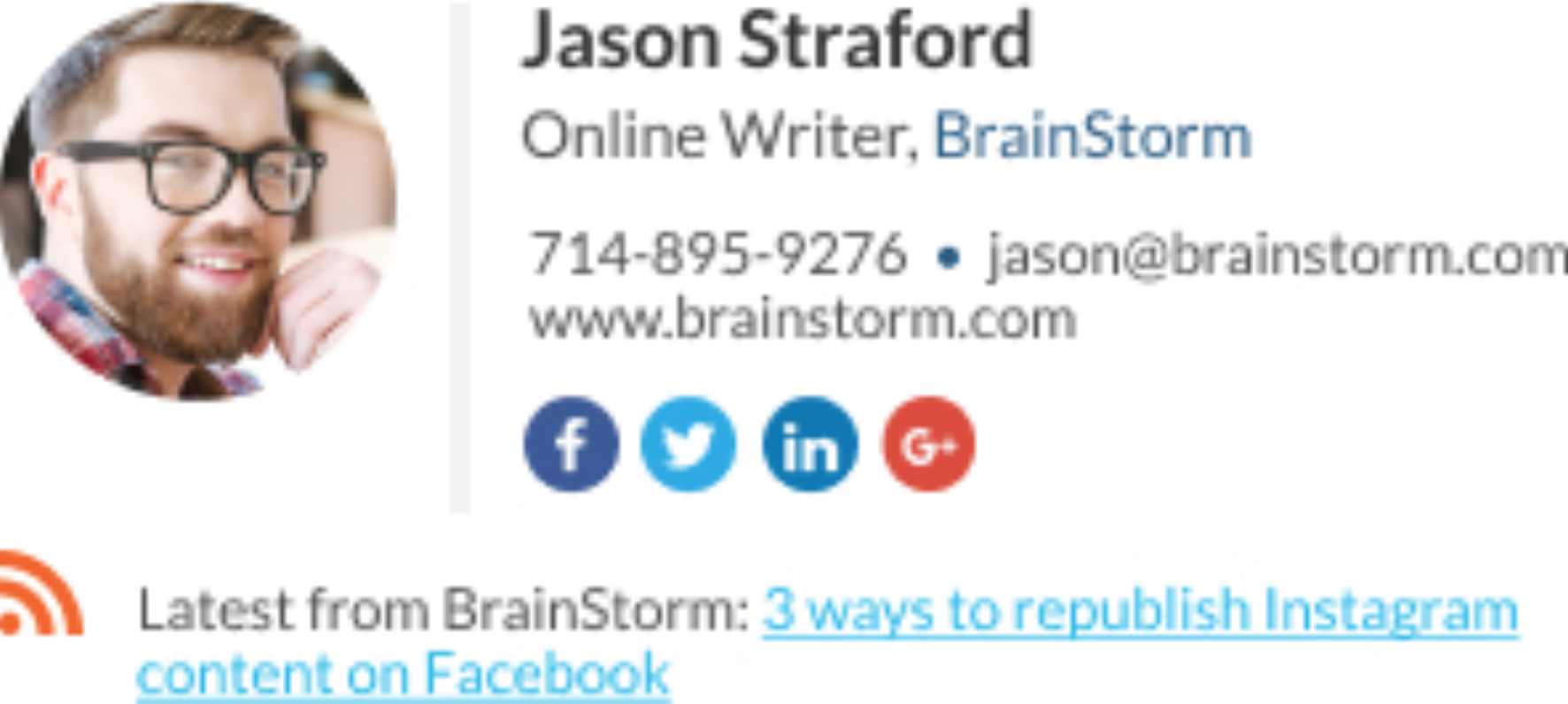 Jason lives in Williamsburg, and he's a popular blogger. You can find the link to his latest post right in his signature!
Retail Sales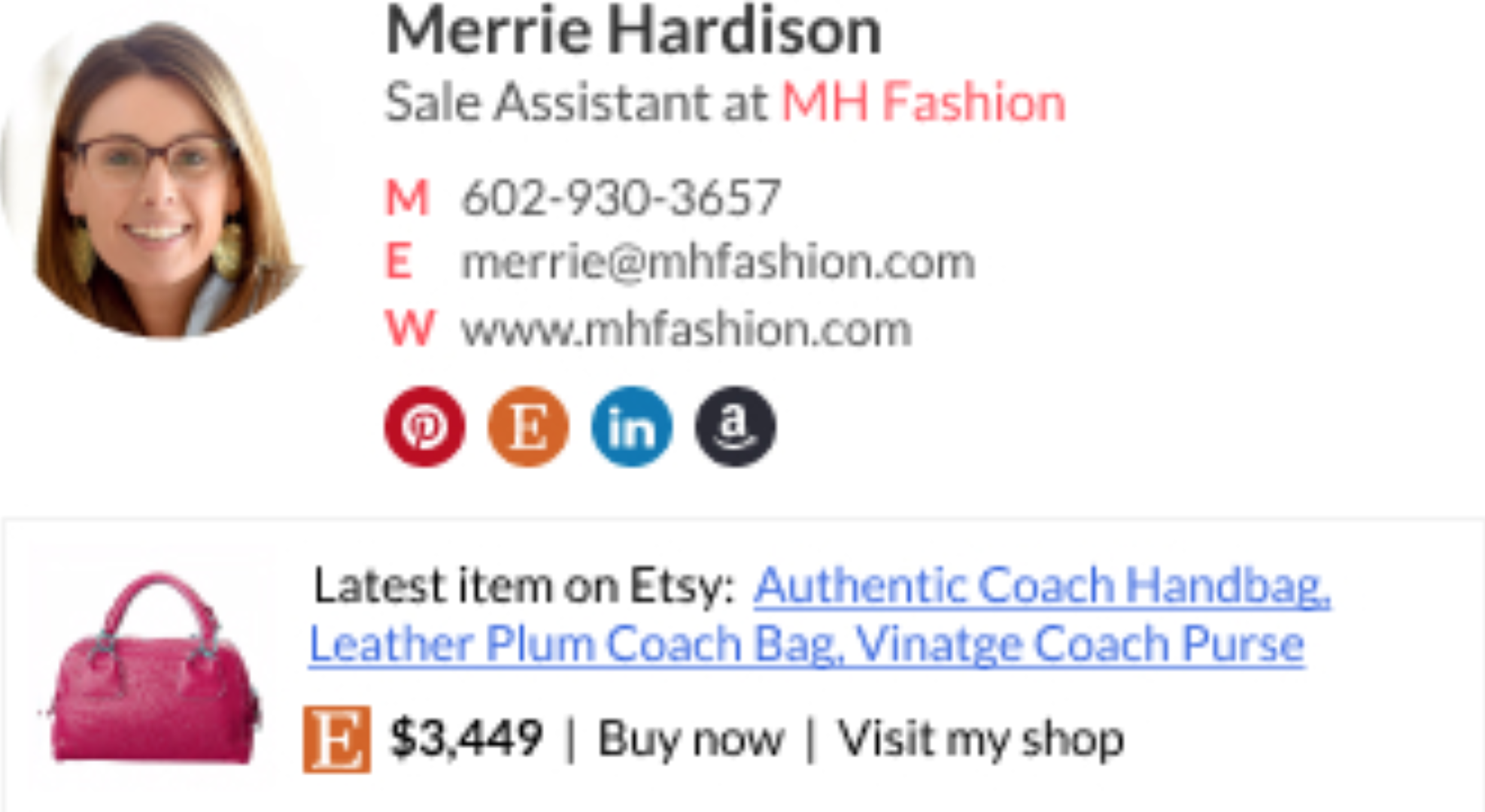 Merrie sells a ton of designer handbags at MH Fashion. And she even sells them from her email signatures. Imagine that!
Professor
Stephen is a serious professor of biology. He doesn't appreciate the university enforcing the banner at the bottom. But it's not a fight he's going to take up…this semester.
HR Consultant
Anna believes HR Consultants get a bad rap. Thankfully she's hiring. So now she spends more time with interviews than layoffs.
Family Doctor
Vivian's smile is the first thing patients see when they meet her. Her practice has this banner at the bottom that features her picture and is getting a huge response. One of her (jerk) colleagues claims it was because she was in the pic.
Guitar Store Owner
Dillon has one of the coolest guitar shops anywhere. He takes his guitars on road shows where they audition in the hands of performers like the guy in the YouTube video. He's received more leads from that video than anywhere else.
Graphic Designer
Karen couldn't decide which design site to join for her online portfolio. So she joined both!
Cafe Owner
Jeff's La Cafe has a top-notch chef and baker. It's made his place famous in Sunnyvale.
Customer Service
Jennifer is a top-rated customer service rep who has no issue with customers clicking on the link to provide feedback on her service.
Marketing Director
Stephanie fought hard to have her company adopt email signatures for all employees. Her bright idea paid off. Now their email content converts more customers.
Signature Generator
Before we go further, it's important to get familiar with a term that has gained a lot of traction: "email signature generator."
It's software that configures an HTML template, then seamlessly adds this template to email providers like Gmail, Outlook, Apple Mail, or Yahoo Mail to generate signatures.
Just fill out a form to populate the signature.
Include inputs for "social" and "style" elements to add links and customize design.
Then, press the button and — bingo bongo — you have a new email signature.
Of course, if you don't want to look like every other Joe Schmo who just discovered how to use an email signature generator, there are the premiere providers who add super-sexy twists.
More about these providers after some basics…
The Basic Recipe
How to Write an Email Signature?
Every effective email signature contains the following elements:
Your name, position & company.
Active social icons: LinkedIn, Twitter, Facebook, Instagram, etc.
Contact number, address & website.
A call-to-action: subscribe, visit, watch, buy, request proposal, etc.
Write a disclaimer (optional).
Add Pop!
Start with Your Photo!
Ariel Finklestein (above), Chairman at WiseStamp, states:
"Our research shows that digital signatures with a photo get an astounding 32% more replies than those without a photo."
Dynamic Content
Is rapidly changing content like Status/Sales Updates important to your business? Then include these in your email signature!
Appointment Scheduling
Again, Ariel Finkelstein (WiseStamp) claims that having this button increases appointment scheduling by 15%.
Add More Pop!
Digital Security
If you need to send secure emails, you can get a FREE email certificate with encryption and digital signing. See Comodo for details.
Compliance
If you're in a highly-regulated industry, like insurance or banking, you're going to need a carefully crafted legal statement at the bottom of every email to protect the confidentiality of your communications.
Specific CTA (Call to Action)
Note the email signature below contains not just a SALE item, but also the hyperlinked tag in blue: "Get it now."
Design Klutz?
If you don't know the basics of design, or don't know someone who does, you could be doing more harm than good.
Pinterest offers examples of email signatures that exemplify the best and worst in design.
Scrolling the hundreds of samples will give you an idea of what does and doesn't work.
Fast Company has an evergreen post with 5 tips on what to AVOID:
Including too many different ways to contact you.
Using an image as your signature.
Not being mobile friendly.
Including irrelevant information.
Having a stale sign off.
Already have a designer?
Canva has a few informative articles on email signature designs. See http://www.designschool.canva.com
Buy or DIY?
How Much Do the Best Email Signatures Cost?
Depends on your needs.
Let's look at your options:
Buying: A Little Money Goes a Long Way
Not only will these providers not break the bank, but you can try before you buy.
If you don't mind their promotional tag, they'll let you use it for free.
WiseStamp: Automated and Awesome

Image by WiseStamp
WiseStamp is the gold standard among providers. It has the most user-friendly interface and a ton of options.
Email Signature Rescue
Email Signature Rescue is also an outstanding provider. They're less expensive for an entrepreneur or small team, but you'll have to pay upfront. And they offer a 7-Day Money Back Guarantee.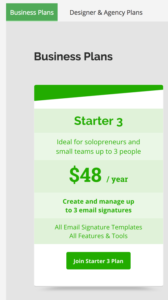 Newoldstamp
Newoldstamp is an email signature marketing and management platform with all the features you really need: central signature management, signature analytics, banner campaigns, and integration with major email clients and providers. Pretty simple and intuitive.
xink
Xink's emphasis is on data collection and reporting. They also have a lot of documentation. See Samples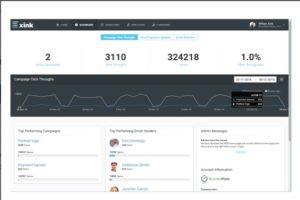 Hire a Designer
For a custom solution, look no further than places like Etsy and Fiverr.
Many designers can also rework your business logo or your entire brand's design.
A custom email template can be included as part of a larger redesign package.
DIY
If you've got some skill at design, you can create an email signature yourself.
Just go to Youtube.com and search for "create email signature" and possibly "create gmail email signature" (or Yahoo or Outlook or whatever email client you use).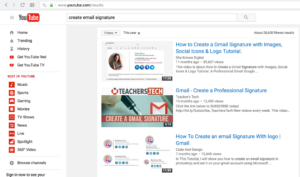 Free options
If your budget doesn't allow for a paid solution now, there are some good free providers. Here are two options:
1) Go "Freemium" by using a paid provider and carrying their promotional tag in every email you send
OR
2) Choose a free provider with the understanding that they don't offer the bells and whistles of the premium providers.
There are many free providers. Here are a few of the best:
Hubspot might be the best free provider out there now. It costs nothing — give it a spin!
Honorable Mentions:
Final Answer
Don't be boring
If you can afford it, pay for a premium provider. Even if you can't afford it, go without a few coffees every month. And you'll be able to
afford it down the line.
For paying a little, you'll get advertising with every message you send.
NOTE: Whatever solution you choose should work with iPhone and Android phones.
And, if you're getting a custom solution or doing it yourself, make sure its mobile friendly.
Dress It Up!
Now it's your turn.
Return to the sample signatures and sign up with a provider (or go DIY).
Try a few different combinations and ask your colleagues and customers for input.
Maybe create a poll as a link within your email signature and gather feedback.
Let us know what your emails are wearing now below!