Young startups need to grow 30% year over year or they'll die, while large corporations are happy with 5% annual growth. To get such growth, you need growth hacking tools.
"Growth hacking" was a strange buzzword just a few years ago, now this term has become synonymous with most startup marketing tactics. I love how Sujan Patel defines it:
Growth hacking is a mindset. It's a fast-paces, no B.S., data driven, and actionable approach to capitalizing on opportunities and ideas that drive business growth.
Here is how Sean Ellis s(the guy who coined the term) defines it:
For meaningful growth, startups must completely change the rules of traditional channels or innovate outside of those growth channels. They are too desperate and disadvantaged to adapt to the old rules of marketing. They have to dig deep creatively, and relentlessly test new ideas. If they don't figure it out quickly, they will go out of business. Some people would just call this marketing. I call it growth hacking.
As you might expect there are thousands of growth hacking tools out there Below is the complete list of growth hacking tools I tend to use frequently to get the job done. Enjoy!
JustReachOut – Forget PR Firms, find and pitch relevant journalists daily all on your own
JustReachOut helps you pitch press without the help of PR firms. You can:
1. Find and respond to press opportunities where a journalist is writing an article and they need a source or a quote for it.
2. Find and pitch journalists who write about your area of expertise
3. Finally, find Quora and Reddit threads you should respond to daily to get your exposure up
You get help writing email pitches from JustReachOut staff of real reporters and journalists. You also get a selection of 9 best email templates and contact info for reporters.
There is not much to explain about this growth hacking tools, Click to Tweet is an easy way to promote your product on Twitter. It works just like it sounds. I used on a number of product launch by asking new users to share the product on Twitter. The results were amazing. You can give away a free coupon once they tweet or run a promotion. It's pretty slick. Their analytics tell you how many times your Click to Tweet link has been clicked which is of course pretty useful.
Pricing: Free
Maitre is a widget which you can copy and paste onto your web page in a few minutes. With the widget, you collect emails and throw them into a viral waiting list. Where they compete to get to the top (due to incentives) by referring friends to your product. It's a simple and effective way to grow or re-engage your email list.
They've also got the addon growth hacking tools section. My favourite is the engagement emails. Here if a user carries out a certain action he automatically gets an email, e.g drops a position in the waiting list. You can also custom email your list, which actually works out cheaper than mail chimp!
What is also cool, is that they released an API which means you can build any type of referral mechanism on top of their infrastructure.
Price: $69
Snip.ly allows you to put an ad on any news story link you share. Instead of explaining this further I'm just going to show you a real life example of an ad here. See how the ad overlays the Mashable article? The way I like to use this tool is to simply share links of very hot content this way. It works pretty well actually. If your ad is related to the content you're sharing with people folks will click and convert.
Pricing: Free up to 100 conversions a month. $16 for up to 500 conversions. $85 for up to 5000 conversions.
This wordpress plugin absolutely rocks! The plugin automatically chooses the title which will get the most clicks for your blog post. You start off with writing as many titles as you can feasibly think of for your WordPress post. Different titles are shown to visitors when they share your post with others. Over time, the best-performing title is shown to maximize your traffic.
Pricing: $99 for life for up to 50,000 visitors a month. $499/mo for up to 500,000 visitors.
Sumome is a brain child of my good friend Noah Kagan. ListBuilder is probably the most popular of all the growth hacking tools in the bundle. It lets you convert these one-time visitors into lifelong readers and newsletter subscribers. A lightbox popover which is customizable automatically pops up after a certain amount of time or you can use a smart mode to popup and ask your visitors to subscribe when the tool think they're getting ready to leave the website. So this tool pretty much makes sure find the blog, read the article, and subscribe via email for future updates of the blog.
Pricing: Free
Scrollbox lets you pop up a message asking your blog readers for an email address when they are nearly done enjoying your content. It is fully customizable, enables you to ask for emails at a whichever percentage someone scrolls down your page.
Pricing: Free
Leads from Sumome is the easiest way to give out bonuses or resources such as downloadable PDFs or other documents in order to turn your visitors into leads. You can move the leads button anywhere on your page and easily create bonuses you want to incentivize your visitors with. This is hot!
Pricing: Free
Twighlighter is another brain child of my good friend Noah Kagan. The tool grows your traffic by making sharing easy. Visitors to your website or blog can easily highlight any part of your content and share it immediately on Twitter. The suite of growth hacking tools also highlights the most-shared content on your site/blog so that new visitors see it immediately. Pretty nifty and works really well.
Pricing: Free
This plugin is a no brainer, everyone should have this. As you probably know social shares with images get 39% more engagement on Facebook and fully double the engagement on Twitter. This plugin makes it easy for blog readers to share images from the blog posts.
After you install the plugin all photos on your website and blog will be automatically get professionally overlaid with social sharing icons for Pinterest, Facebook and Twitter. When people share blog posts with these new buttons, each social post will include the normal link to your website plus a beautiful image – driving even more clicks than normal. This is kick ass!
Pricing: Free
Scrollbox lets you pop up a message asking your blog readers for an email address when they are nearly done enjoying your content. It is fully customizable, enables you to ask for emails at a whichever percentage someone scrolls down your page.
Pricing: Free
This online tool can help you collect and analyze leads so that you can make smarter marketing decisions to grow your business further!
It is also a very practical way to learn about your audience – and it's so easy to use, no tech skills needed.
Pricing: There's a 14 days free trial, an annual and a monthly plan.
Quick note, as of February 2015 is seems Jooicer is down or is having trouble. The link to the site does not work. We are unsure if the company will come back live or not.
Jooicer is nifty little tool we just recently started playing around with, it lets you automate your social media strategy for Twitter by creating 'custom recipes'. You choose which actions you want to automate, for example: unfollow non followers in 7 day, follow everyone with this hashtag in their bio, etc. You can compose reports and analyze the results. It's pretty straight forward. Recipes can be shared with others and you use theirs as well. It's pretty dope.
Pricing: Free for Now
Bounce Exchange is pretty simple concept, it helps you turn abandoning site visitors into customers by inviting them to convert with a pop up right before they leave your site. They have a pretty good algorithm which detects exit intent and lets you act right away as they see a user is moving their cursor to close the tab in the browser or change that URL. You can of course A/B test multiple variants of your pop ups.
Pricing: they do customized pricing based on visitor volume, plans start at about $4K per month
This is a brand new tool for me and I'm still experimenting with it. Just like BounceExchange they allow you to detect when a visitor is about to leave your website and pop up a message asking them to stay or sign up. They're in beta so it's free right now, it's a good time to test something like this out and see if it's worth spending money on, this is what I'm doing now. One issue with their growth hacking tools is that they currently don't support 'https' websites. They will add this support in the coming weeks.
Pricing: Free while they're in beta
This is one of the best growth hacking tools for injecting yourself into the right conversations. Monitoring Twitter, Quora, Hacker News, GrowthHackers.com, Google and all the blogs in your industry so you can respond and comment on the most relevant discussions is a LOT of time. Yet you need to do inject yourself into these conversations. Colibri does all the hard work for you. I love this tool. It produces a nice report of actions you need to perform. Respond to this tweet, answer this question on Quora, comment on this blog post. I check in with it every few days and spend a few minutes performing the actions it recommends. Works like a charm.
Pricing: 45/mo for most basic plan, they have a free trial.
These guys are rockstars. You let them take over your Twitter account and tell them what types of people you want as followers and just sit back as your followers grow. What they do is they use part manual labor and part very refined algorithm to follow extremely relevant people to what you specify. A good portion of those who you follow will follow you back.
They also filter out folks who don't have much followers, who are not active on Twitter, who do not match your specific description of who you want as followers. I was skeptical at first but the service works like a charm. I just recently started using them on my own account.
Pricing: $119/mo with a two week free trial
These guys are awesome, they're kings at YouTube influence marketing. They help you find, hire and work with YouTube Influencers. FameBit connects brands with influential "YouTube Stars" to create original video content that is shared with their thousands to millions of engaged viewers. I've heard a lot of good things about using these guys and am planning to engage with them very soon. It's definitely worth a try.
Pricing: The cheapest is $100/video but it goes up from there
Since we are talking video marketing, just like FameBit is good at YouTube videos the guys at Vooza are probably the best at making the funniest videos which end up becoming commercials in some cases. They way they make the videos you don't care if it's a commercial or not you tune in to watch it anyways because it's so funny. To get a sense take a look at this commercial. Now look at this video which is just a hilarious skit. You get the point, people follow them and tune in just to watch all these videos.
While this is not so much of a growth hacking tools as it is a service to market your brand it still deserves a spot in this list. I absolutely love these guys and think what they are doing is brilliant.
Pricing: You have to call them, it's not cheap.
I discovered this tool on Product Hunt and was pleasantly surprised after I started checking it out. The way they presented it on the site was "Lightweight Marketing Automation That Doesn't Suck" which got me curious. Most marketing automation tools I've used sucked. They either cost too much or are a huge pain to setup. The general promise of this growth hacking tools is that adding widgets such as pop-ups, email collect forms, calls to action and setting up emails to go out based on the actions a user performs is crazy easy and fast.
In the past I've used growth hacking tools such as Marketo and Infusionsoft to accomplish this job and while they do the job rather nicely, what I like about Get Drip is that it's 10% of their sticker price and the setup seems to be easier. I'm still playing around with this tool but so far I'm impressed.
Pricing: Trial for 3 weeks, then $49/mo.
Buzzsumo is pure awesome sauce and it's free! Enter any term into it's search and the tool spits out the most shared articles on social media on the topic you entered. This is brilliant because now I can copy down some ideas of what titles worked well on social media and what I should write about on my own blog. I can also reach out to the people who have written these articles to see if I can post a guest article on their blog since I know it has gotten some action. You can sort of infographics, videos, giveaways, and guest posts as well. I love this tool.
Pricing: Free
This is a very old tool, it's been around for quite a while, yet I still find it surprising a lot of people have not heard about it. The way they market themselves is "Get More Clicks With The Hello Bar Notification Bar" and that is precisely why marketers use this. It's simply a bar with a message or a call to action up on the top of the site which never goes away. The tool allows you to setup the an email collection or a redirect depending on what you'd like to do. If you want the pro version you can do fancy stuff such as A/B testing. One of the better growth hacking tools.
Pricing: Free unless you want the PRO plan which is $4.95/mo
Optimizerly is the granddaddy of A/B testing for your website. Their tagline is "A/B Testing which you'll actually use" and it is so true! In my mind they were the first ones who pioneered creating the most beautiful and easy to use user interface to perform A/B testing for your website. The tool is insanely easy to use, you can test multiple versions of your homepage or landing pages. They have an incredible support staff and a wealth of information on their blog about best practices. If you are in need of A/B testing they're it, you can forget anyone else.
Pricing: Based on your traffic, starts at $17/mo and goes up to $539/mo
I use these guys on my blog and anywhere I need to easily collect emails in exchange for giving away a free resource. They integrate with Aweber and MailChimp and let me setup all the automated emails right inside their tool. I also like to use them for quick and simple squeeze landing page creation, they have lots of templates to choose from and the setup is very quick.
What turned me on to them was this amazing webinar I watched by their own Tim Paige where he broke down how they grew to 15,000 paying customers in less then a year all off of one landing page they created. It's a pretty incredible story.
Anyways, I love these guys.
Pricing: Starts at $37/mo and goes up to $97/mo
Since we're talking about landing page creation I can't forget about UnBounce. These guys have been friends for quite a while and I've learned about them and used them way before I started using LeadPages or Optimizerly. These guys combine the landing page creation and A/B testing all into one very well designed tool. Very easy setup, tons of templates to choose from for your landing pages, very knowledgeable staff, tons of free resources even if you're not a customer. All around a pleasure to work with this guys.
Pricing: Starts at $49/mo and goes up to $199/mo
Qualaroo is a brainchild of Sean Ellis the guy who defined the term growth hacking. They way they describe what they do is: "Analytics tell you what people are doing on your website. Qualaroo tells you why."
It's a great tool for asking your visitors insightful questions right at the specific time they're performing a specific action on your website. You can ask questions such as "What is preventing you from starting a trial or purchasing?" with a few radio button choices underneath, here is an example. Its a slide out right hand corner type of message so it does not completely interfere such as pop-ups do. What this does is really helps you learn much more about your customers so you can fine tune your site for much better conversion. It's the "smart way" to do A/B testing.
It's a great concept and I've used it on a few sites already, great results. Make sure you have time to dedicate to process the results you get to really get the most out of this tool.
Pricing: Starts at $63/mo and goes up to $499/mo
I wrote about this tool the first time in my post How To Convert 97% of Visitors Who Do Not Fill Out The Contact Form. I like to use this tool for this same reason, there is one main feature I love in it and that is: it lets you translate the IP address of the visitor into their company name if they're visiting your website when sitting at their office. This is pretty key in sales since you want to know which company is checking out your website, you can then follow up with the company or dig deeper as I share in the post to find specific contacts to reach out to.
Pricing: I used to pay $100/mo but I think they changed it now, you need to contact them.
Whether you're doing a bunch of PR pitching or sending out sales emails with contracts or proposals you want to know whether someone has opened your email and read it. You also might want to know how many times they opened it, on which devices, etc. I've used YesWare for a while now and have recommended it to most of my friends. They are the best at giving you all this information and more.
Pricing: $10/mo
These guys are really damn good at figuring out some else's email address if you give them the first name and last name and domain where the person works. They have an APi service if you want to incorporate this functionality into your app. We use them for JustReachOut and can honestly vouch for them. They've got this down!
Pricing: Starts at $9/mo and goes up to $249/mo
Toofr – Find Anyone's Email
These guys are also pretty damn good at finding people's email addresses. In terms of the offering they are pretty much the same as SellHack and we actually use them as well for JustReachOut. They're a good complement to have with SellHack. You can use them through as an API or without. They are dead simple to integrate with and are absolutely great customer service.
Pricing: Starts at $20/mo and goes up to $500/mo
This works very simply, you give the tool an email address and it gives back all the social profiles and websites the person owns and runs. Pretty powerful for snooping and learning all about people you're about to meetup with or using this through an API in your app or email. Rapportive in Gmail does a similar thing to these guys but the beauty of this is that they have an API and you can integrate this with any application or website you'd like to.
Pricing: Starts at $99/mo and goes up to $499/mo
The way Intercom folks describe themselves is 'the easiest way for web and mobile businesses to see and talk to their users'. Most of us have an app such as Zendesk Talk to run our online help desk, we have another product to run our email marketing, another one for customer relationship management, and yet another one for marketing automation. And that just sucks. Making all these work together is pretty damn tough.
Intercom brings all these apps together into one product eliminating any friction you have between all these apps. It actually allows you to target your customers more directly since it paints a much more complete picture of your customer.
All you do is add a few lines of code to your site and you can naturally interact with customers directly when they are inside your product as well as do follow ups after, manage customers, do customer support and much more. A lot of my close friends use this tool and have nothing but great things to say. I'm starting to use it on a new project as well now.
Pricing: Starts at $49/mo and goes up to $399/mo
I'm not going to go into too much detail about KISSmetrics since chances are you probably heard of them at least. This is the grand-daddy of any marketing and growth hacking tools. If you are not using this you should, everyone should. While Google Analytics gives you great info about traffic coming to your website KISSmetrics gives you key business metrics on what happens this this traffic once they reach your site. It basically helps you fine-tune your conversion by analyzing what happens to customers who reached your website. They have pretty much dominated their industry and most people have heard of them by this point. This is a must have for everyone as I said so if you don't use them now get to it!
Pricing: Starts at $150/mo and goes up to $500/mo
This is relatively new tool and I'm still experimenting with it, haven't employed it too much. In general SpruceMail takes your current email promotions and automatically turns them into "ready to run" Facebook ads. It allows you to create Facebook ads for your products and promotions in seconds.
I did recently publish a post on How Not to Waste $100 on Facebook Advertising where creating ads was a major time suck for companies trying to run ads. It takes a long time to come up with a good looking ad and that is why this tool can come in very handy. I don't have too much more to say about it since I'm still experimenting with it but so far I've been very impressed.
Pricing: Starts at $19/mo and goes up to $13,949/mo (I know – wild!)
MixRank MixRank is a pretty much a spy tool for monitoring competitors' traffic sources and using that data for building businesses' own campaigns. This is actually pretty cool. The tool scans millions of companies, websites, and mobile apps, automatically identifies the ones most likely to become your most valuable customers, and instantly delivers them to your sales team as high quality, up to date leads.
The tool finds new potential traffic sources for you. It also monitors competition split tests to see which ad creatives and ad copy and landing pages are most effective and identifies advertisers who are bidding against you to learn from their successful campaigns.
Pricing: Not listed on the site, need to schedule a demo
SessionCam is nice little tool I've used a few times in the past. It allows you to watch recordings of your website visitors and mobile visitors so you can identify problem areas and increase conversion. It's pretty simple and there is not much to it but it works very well. Besides the video recording the tool will show you heat maps and lets you build conversion funnels between pages.
Pricing: basic plan is free and you have to contact them for pricing on paid plans
Clicktale is exactly as it sounds, it's a tool to help you improve your conversion by analyzing where your website visitors are clicking. The way I mainly have used this is to analyze performance of the forms I want my visitors to fill out. The tool is very good at helping you visually analyze what happened before visitors filled out your form and how to better lead visitors through conversion to fill out the form.
Clicktale is pretty similar to HotJar, a tool I like to use at JustReachOut,  I've mainly used their heatmaps  feature which shows a graphical representation of hot spots on the website where your customers have clicked or hovered their mouse.
Here is how it looks like: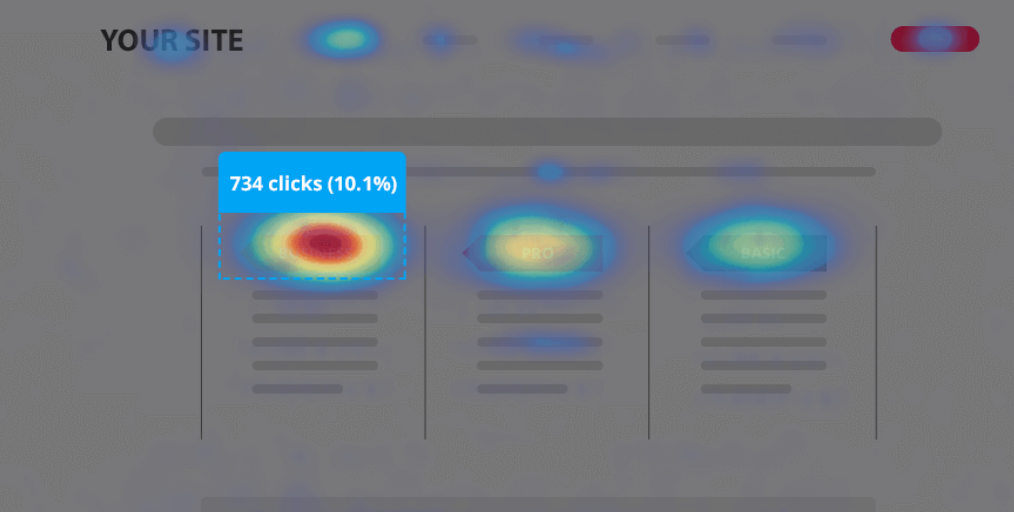 The tool lets you record sessions or individual users on mobile and desktop and play them back as well as use heatmaps to increase conversion. It nicely aggregates behavior from thousands of visitors and at the same time lets you zoom in on any given customer. Very powerful stuff!
Pricing: basic plan is free and you have to contact them for pricing on paid plans
Just like KISSmetrics, CrazyEgg is a very well known tool to marketers. The tool shows you how visitors are behaving on your website. Where are they clicking, where do they stop reading your website or watching your video. it segments your traffic and shows how specific segments of traffic behave differently.
In a way it goes one step deeper than KISSmetrics, it helps you see how users behave on your site and how they react to specific messages without running a bunch of A/B tests. It's super cheap and easy to install so you have no excuse for not trying it out.
Pricing: They have a 30-day free trial and plans start at $9/month
Totango helps you change the user experience of your product to drive conversions. The most powerful feature of this tool is that it helps you identify hot prospects vs average free users. It separates the customers who are truly evaluating your product or service and might buy from folks who are just poking around and are not serious about buying. In the end it gives you the information you need to do smart follow ups.
Pricing: They have a free trial and you have to contact them for pricing
We use Mixpanel for JustReachOut and are pretty happy with it. It helps us look how our customers are using our service by tracking actions people take rather than page views. It helps us understand whether customers use the features we have in the tool, what they are trying to do, and where the biggest problems lie with our user interface and product functionality. It works very well for customers who are using our tool from mobile as well as desktop.
Pricing: Free up to 25,000 events and goes up to $2000/mo depending on number of events
I found this tool on ProductHunt and am absolutely in love with it. It basically makes forms and textual surveys fun, interactive and most importantly grealty increases the number of people who actually go through the form and fill it out. To really get how awesome it makes you questions look and feel you have to watch the video on their website.
Pricing: There is a free plan, and they have a Pro plan at $25/mo
I've used Olark for years now. Plan and simple it's a chat application that lets you connect with your site visitors. This growth hacking tools tells you who is on your site, their location, and what they are looking at on your site. You can then chat at them in very relevant way to engage them. The basic value of the tool is letting you start extremely targeted chats with your site visitors at the most relevant time (when they are live on your site). The tool also integrates with Zendesk and all other customer support tools to keep track of your correspondence.
Pricing: They have a 14-day free trial and paid plans start at $15/mo
I've used this tool in the past before and it's pretty much the same exact thing as Olark, it allows you to strike up conversations with your site visitors. It works just as well as Olark and has mostly the same features. I wanted to add this into this list since I found that their customer support was slightly better than Olark and I had less issues trying to integrate them with other third party apps such as Zendesk or SalesForce. All in all it's exactly the same as Olark above.
Pricing: They have a 15-day free trial and paid plans start at $60/mo
Plain and simple if you are a startup and want to market your video content you should be using Wistia. I have recommended them thousands of times. Wistia is built to help businesses market their video content. After you upload your video you can control virtually every aspect of your video. You can change the thumbnails, the call to action which appears before, after or anywhere in the middle of the video. You can modify the design and look at feel of your calls to action (such as forms to fill out, social, as well as messages) throughout the video.
The have a tremendously powerful analytics which show you which parts of the video are watched a lot and where do people stop watching the video. Invaluable stuff. They have a kick ass learning center which provides oodles of information about making your own videos.
Pricing: They have a free plan with up to 3 videos and then it goes up to $100/mo
When You receive emails from you you probably see that I use AWeber. I love these guys. Super responsive and dead easy to setup. Noah Kagan turned me on to them and I could not be happier. A lot of entrepreneurs, bloggers and startups in general use these guys. They have hundreds and hundreds of email templates and let you create follow up series. They're super easy to setup and integrate with sign up forms on your blog. I highly recommend them.
Pricing: Plans start at $19/mo
We use MailGun for our product JustReachOut and we could not be happier. MailGun is email API which helps us programmatically send emails based on specific action a user performs in our tool. It's very easy to integrate with any product. If you ever need a quick setup for an email to go out when someone signs up or if there is an error on your website or if someone downgrades this is the API to use.
Pricing: Free up to 10,000 emails a month and then $0.00050 per email
SendGrid is probably the largest email infrastructure as a service provider. They pretty much do what MailGun does but they have a bunch more nicer features such as real-time analytics and ability to maximize your emails are delivered and read. They send on average hundreds of billions of emails a month without any issues, they're pretty big.
Pricing: Plans start at $9.95/mo
I hear about this tool not too long ago and have been playing around with it lately. In general it helps you send highly targeted emails based on customer behavior. You can detect that someone started going through the sign up process to buy your service and left and start sending emails every few hours or days after they leave your site to get them to come back. There absolutely no code you need to know so you can set this up with just a few clicks. You can of course A/B test your emails and use analytics to see which emails are performing the best.
Pricing: They have a free 14-day trial and plans start at $99/mo
Po.st – Drop Cookies on URL Shortened Links
This is by far one of the most clever ideas I've heard about recently, this works just like a regular URL shortener only after you click on the shortened link a cookie is dropped on your computer and you can be targeted with relevant ads to the link you clicked going forward. For consumers, it's free and easy to shorten links and share them anywhere on the Web. You can shorten any link. Brands however can turn their shortened links into new audience segments for ad campaigns and deliver better performance on their ads.
Pricing: This is integrated into Radiumone advertising platform, no pricing is listed, you need to contact them for pricing.
Outbrain lets you promote your blog post or article in 'From Around the Web' sections of CNN, FastCompany, Slate, Time and tens of millions of other websites. You can see how it looks here.
The way I use it is a bit different, I like to pick a good article that was written about me that gave me a lot of high quality leads and I add it to my Outbrain campaign. I like to specify at least 10 different titles for the headlines for Outbrain to display in 'From Around the Web' sections across all the publications. It works really well since it's basically send juice and fresh traffic on to an old piece of content that worked well in the past.
Pricing: $10 minimum a day, 35 cents a click is recommended
Even More Growth Hacking Tools!
Fomo is a platform that shows recent customer interactions on your website in real-time. It takes just a couple minutes to embed the widget and you can connect 100s of services through Zapier or their API.
The widget itself is highly customizable, given they have a WYSIWYG theme builder and nearly three dozen configuration settings. Lastly, Fomo provides a live feed of settings recommendations to increase conversions, using machine learning across thousands of other users.
Pricing: $19 /mo for up to 20,000 notifications, then $49+ for more volume
I love this newsletter, it's not a tool but its better! GrowthHackingIdea emails you one crazy short growth hacking idea per day. The ideas are concise and better yet, they're laid out in easily implementable steps which saves a ton of time. This newsletter grew to 17K+ subscribers through invite only in just 3 months. The subscribers include marketers at Microsoft, Salesforce, TechStars, Hubspot, Coca-Cola, Indiegogo, Disney, 500 startups, LinkedIn, Adobe. Nice source of new growth hacking ideas for startups to test. A lot of the hacks shared in this newsletter can be found in this nice compilation of growth hacking tactics
Got any to add? Feel free to add your favorite ones below.