Should you do your own PR?
If you're a startup or a small business owner, hiring a PR company is not practical. It's far simpler (not to mention inexpensive) to do your own PR.
Here's a step-by-step guide on how to do your own PR:
Search Google News to find articles related to the topic you'd like to pitch
Verify this article is relevant to the topic you're pitching
Find the name of the journalist and the publication they write for
Write the email subject line
Construct the body of the email
Find the email address of the reporter
Reach Out!
Not too long ago Kevin Leu wrote an article on VentureBeat titled – 5 reasons you'll regret hiring a PR firm for your startup – sharing his personal frustrations with hiring public relations firms. It struck a chord with me since I've felt those same pains many times myself:
They don't know how to tell a story.
They rip you off.
Often, they act like they know everything.
They take more credit than they deserve.
It's all true.
Whether you are an entrepreneur or run a small business, there are far better ways to get media attention.
Small business owners like you pay on average $12,000 a month to get maybe 20 hours of work a week from a PR agency. This translates into maybe three or five stories a month if you're lucky.
To be perfectly honest founders do not need to hire a PR firm to get media coverage. They can easily apply several media relations strategies to successfully execute what a PR person does – build a long-term relationship with the media- themselves, or teach an employee to do this.
Whether it is to engage your customers, clients, and influencers with a specific message, build a personal brand or publicize your message to a specific target audience, you can do it without shelling out a huge retainership for an agency.
Bonus: If you do your own PR yourself you'll do a hell of a better job at it since you know the story MUCH better than any PR company.
I lost faith in PR firms 6 years ago and have been doing my own PR whenever I need it; it has worked much better.
Here are the 7 steps that I use to do my own PR:
As an example, I just finished a study which found that a used Tesla Model S costs on average $30,000 more then a brand new Tesla Model S. It's a hot study, it's surprising, and I want reporters at different media houses to know about it. So I do a Google News search for "Tesla new vs used".
This is a better strategy than doing a random search in other search engines since it delivers more relevant results.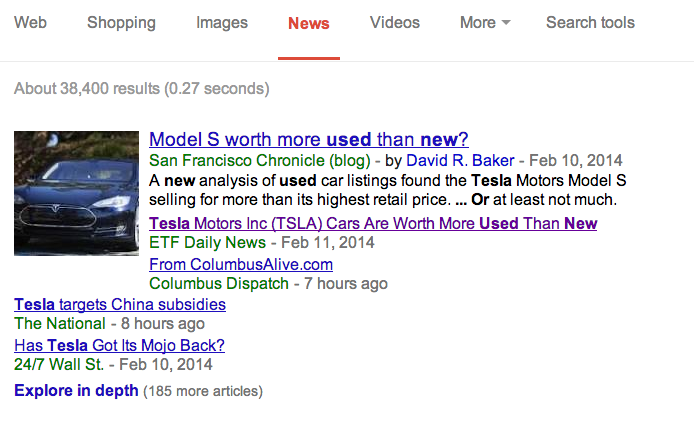 2. Verify this article is relevant to the topic you're pitching
I click on the articles in Google News that look relevant to my pitch about the Tesla model S study. I'm trying to find a very good fit, a reporter that is really interested in Tesla and new vs. used pricing.
If it's an article about Elon Musk's statement about Tesla restoring electricity at a Puerto Rican children's hospital, this is not a good fit. If it's an article about Tesla's recalls or Tesla's business model, it's also not relevant.
Finally, if it's an article that is older then 3 months or so, chances are it's not relevant. I'm looking for something that was written recently, that is about Tesla's pricing of used vs. new. It has to be very relevant; this is vital when you are doing PR for your business.
I really like how Austen Allred forms his pitch angle when he is reaching out to reporters to build relationships with the media for his business:
Is it timely? Is it relevant? And is it interesting? Why would someone like you be interested in reading this?
Again, we'll take my startup, Grasswire, for example. Grasswire is an Internet newsroom that lets everyone fact-check and sorts social media content in real-time. But what does that mean?
"That's what a ship is, you know. It's not just a keel and a hull and a deck and sails. That's what a ship needs. Not what a ship is. What the Black Pearl really is, is freedom." — Jack Sparrow
What Grasswire needs is an Internet newsroom. But what Ggrasswire is is a democratization of journalism and information. It's turning over the power of governments and corporations to everyday people. It's letting ordinary people control the information that determines how they see the world.
Not many people want to read about yet another social media tool. People love to read about freedom.
3. Find the name of the journalist and the publication they write for
The next step is to find the name of publications your target audience – the journalist – writes for.
This part is easy, I look through the article to find the name of the person who wrote it. Sometimes it's a person from another media house, for example, it might be a Bloomberg business reporter who published something on USA Today.
Since we are trying to find journalists who write about Tesla's pricing model, they would in all probability be a business or financial journalist.
Keep this in mind, since every journalist has a specific beat or field they write about. This is relevant for your pitch as you don't want to target a reporter who usually writes on Tesla's designs or engineering aspects.
Determine whether they're a freelancer or a reporter for a specific publication. Pay attention here, click on the reporter's name to view their profile to see which publication they write for. Sometimes the email is hidden in a pull-down menu under the name – check for that.
Verify it by checking their Twitter profile. They may also be a freelancer, which means they have a personal email address and not a publication one.
This is a crucial part of your email when reaching out to the press for your business.
They'll either open your email or ignore it after reading this. They have 287 emails to go through that day, their chat client is blowing up and they need to write 4 stories. Your email has to capture their attention.
Usually, I ask myself what is the headline of my pitch? If I was the reporter's boss (the editor) and had to look over this story, what would I want the headline to be for this story in order to shock or surprise readers? In my case it might be something like this:
Why Used Teslas Cost $30,000 More Than A New Tesla
Not perfect but something along those lines. Neil Patel, a friend of mine, has tested a lot of email subjects in his time and has found that the following one below works the best for when you want to do good PR:
don't you hate it when people pitch you story ideas [insert their first name]?
5. Construct the body of the email
This is where most email pitches fall apart. Business owners put an entire press release in here or three detailed paragraphs of their project plan, or just a bunch of links to show how legit they are. Remember they have 287 emails in the inbox, IM client blowing up and 4 stories to write.
They have no time to read through detailed emails or click on any links about your product.
Pretend you bumped into them at a conference, you said hello and they responded, you shook hands and now you have 15 seconds to capture their attention. Your comment can get two responses: "Thanks, I'll pass this along to others" or "I had no idea, that is fascinating!" What do you say?
So here you need to appeal to the reporter's interests when you run your own PR campaign.
You might want to look through their profile, see other types of articles they write, questions they ask, things they tweet to get an idea of what types of things would pique their curiosity.
For instance, if you are a fashion designer who uses a pop-up shop to sell her product rather than rely on social media and e-commerce, and you find out that your target reporter is interested in unique methods brands use to reach out to the public, you have a great starting line for your email pitch.
There is no perfect email template, you just have to play around with it. But never send an entire press release in the email, even if a PR expert or publicist insists that you do.
For example, if I decide to use Neil's subject line from above and his email format, I'll alter it slightly, here is an example:
subject: don't you hate it when people pitch you story ideas [insert their first name]?
I also have a story pitch but before you hit delete, just give me 37 seconds, or else you'll regret this for life! So here it goes:
You recently wrote a great article on Teslas, I really enjoyed your analysis on its affordability. We just completed a study and discovered that the average price of a used Tesla is $30k more than a new Tesla. Thought this would pique your curiosity.
We are publishing the findings from the study on [insert date], and I wanted to see if you would cover it beforehand. Here are two reasons your readers would love your coverage of this:
Insert benefit #1
Insert benefit #2
I could keep on going with reasons you should blog about us but I won't overwhelm you with details. If you're interested, let me know and we can set up a time to chat when you're free.
Cheers,
[insert your name]
P.S. I think I have 7 seconds to spare still, so if you could just hit the reply button and let me know what you thought of my pitch, that would be great. Even if it is "F-off"' any feedback would be great.
Sometimes the email above seems too pitchy and spammy, like a press release, so I use something more along the style of what Austen Allred recently posted on his blog on how to do your own PR:
Hey [name],
My name is Austen from Underwater Audio. We developed a technology that makes iPods completely waterproof '" it's some pretty cool technology you (and your readers) would love. We're at underwateraudio.com, and I have a [product sample] I'd like to send your way to [review/check out] if you're interested. Let me know!
Thanks,
Austen Allred
[contact info]
6. Find the email address of the reporter
This is mostly a mechanical task, but it is crucial if you want to build solid relations with your target audience, in this case, journalists. It does require some work but all good things do, so let's get crackin'!
The most obvious place to look for a reporter's email address is at the top or the bottom of the story or blog post where their name appears. If it's not there, click on their name to look through the bio page for them, the email might be there. If not, look at their Twitter profile, it might be there. Else, go on to the next bullet.
If you haven't yet, install Rapportivein Gmail in order to go forward with this step. Remember step #3 where you identified if the reporter is a freelancer or has a full-time job? If they are a freelancer, chances are they use their Gmail address for emailing. Follow this video below from folks at Distilled along with this spreadsheet to guess their Gmail email address. Type in "gmail.com" into the domain field in the spreadsheet.
If they are not a freelancer, meaning on their bio page it states they write for that publication, try the same approach as above with Rapportive and the spreadsheet. If no luck, go on to next bullet.
Head over to http://email-format.com and type in the domain to get an idea for the email format to use for that publication. You can then substitute their first and last name into the email format and give those a try. If not go on to the next bullet.
If all else fails, there is a way to use Google+ to contact press people privately. You do not need to be connected with them to reach out. Find them on Google+ and reach out with your message.
I've covered the email finding process in more detail in this post.
7. Reach Out!
Now you're all set to reach out. You have a very relevant and timely pitch for the reporter that is a perfect fit for your topic or product. You have a very short and actionable email ready for them to read and give you a Yes/No reply. And you have their contact information.
The last step in getting press coverage is to send that email.
Quick tip: You might want to install MixMax to see if they opened your email. If you sent five emails and three of them were opened but you didn't get a response within a few days you probably need to change who you reach out to or your subject and email style.