I answer about ~100 emails a day from our customers. I try to reply to as many as I can myself since I love to help folks. The most common question I get from entrepreneurs trying to use a PR pitch is this: How do I make my PR pitch sound less pitchy? How do I stand out? Here's a typical PR pitch entrepreneurs send to press:
Hey X-

My name is X.

After reading your article X I thought your readers might be interested to hear more about a product I'm working on since you seem to be interested in conscious consumption.

We developed a technology that enables consumers to track their purchases to impact in the sourcing countries of their products.

[FOUR PARAGRAPHS ABOUT THE COMPANY]

Let me know if you'd be interested?

 
Would you say something like this to a journalist you met at a conference or at a bar if you were standing right next to them? You don't know them, they don't know you. Would you say all this to them the very first time you start speaking to them? Probably not. PR is like dating, you have to start an engaging conversation with them first. You have to find a common interest. PR is not about how many pitches you can send out in a given timeframe. It's not about quantity, it's about quality. Can you leave a comment on an article they wrote? Can you challenge their opinion and provide some data for their articles? Can you do a quick study on an issue that is interesting to them? Here are some of the five email PR pitches I've used over the last 10 years:
Become a source for an article for your PR Pitch
One of the easiest ways to strike up a conversation with a journalist is to find someone who is writing an article and needs a quote from an expert to complete the article. By providing interesting insights, data, know-how, or experience you kill two stones at once, you help them write the article and start building a relationship with them. The trouble is that it's so damn hard to find those specific journalists who need a source for their articles. This is why we recently launched "Press Opportunities" on JustReachOut, this is how I use this feature: 1. I'm an entrepreneur. I'm wondering of anyone is writing articles about entrepreneurs might need a source or a quote for their article. I type the term into search and check "Press Opportunities". I see there are 27 journalists currently in need of a source: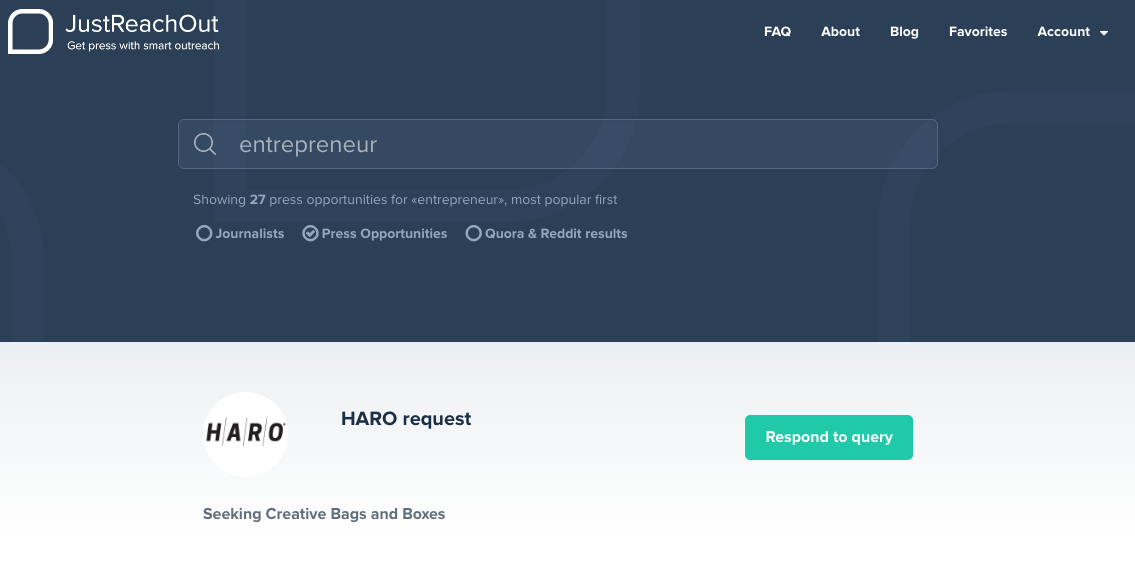 2. I click 'Respond to Query' to check out the details and respond: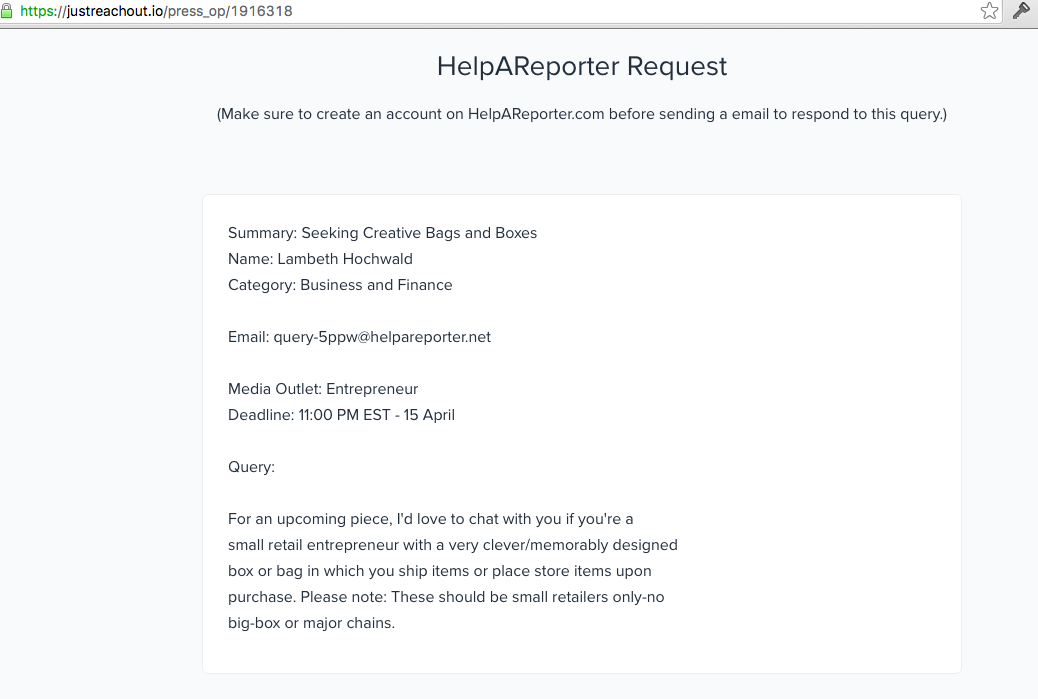 3. I email the reporter to let them know I'm a good fit for their query. I can play around with different keywords to see if there are any current other queries for similar keywords, I can try "startup" for example.
Here is how Rod Smith, CEO of Verum thinks about this tactic:
"This is the LOWEST HANGING FRUIT for any entrepreneur, you don't have to do much at all, you just need to answer their questions and do a great job at it."
Go the Quora & Reddit Route
This is actually crazy easy to do. Let's say I'm looking to connect with journalists writing about SEO, I type that into JustReachOut and filter the results by Quora & Reddit discussions only: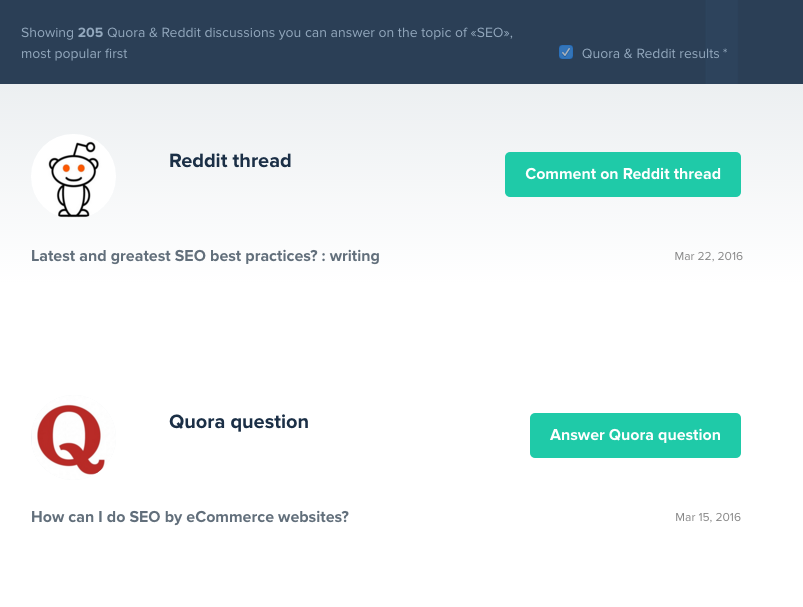 Now I navigate to the Quora discussion or Reddit thread and participate in the discussion by commenting and sharing my opinion or interesting info I might have to share about the topic. I do not mention anything about my product or service. Right away I get a quick little PR pitch hit and am in the spotlight among people in the discussion so I feel good, here is what I do next… I use the answers and comments I post on Quora or Reddit as a way to solicit influencers, journalists and reporters I am pitching to engage in a conversation with me. So I search for SEO on JustReachOut and now uncheck the Quora & Reddit box so I'm looking at the journalists themselves: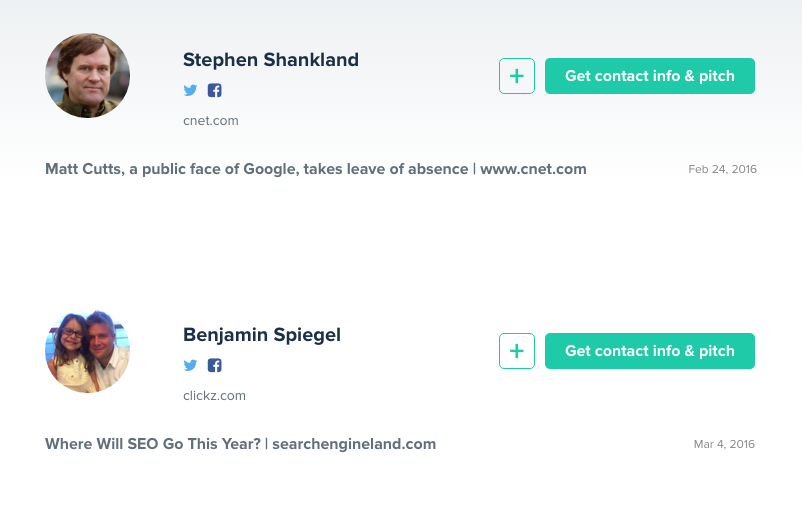 How to approach journalists
Now I see the journalists and influencers I want to reach out to, but I don't want to PR pitch them my service or product. Instead I want to start an engaging discussion with them, so my PR pitch might sound like this:
Hey X- I noticed you've been writing about the SEO skyscraper technique a lot lately, I just answered a question on Quora about the skyscraper and I'm not sure I was able to give it a complete answer, wondering if  you have a better answer specifically around the process of determining who you want to link to your post? https://www.quora.com/Whats-your-secret-strategy-of-getting-quality-backlinks-the-white-hat-way I'm writing a blog post on this topic and would love to feature your answer in my blog post. Feel free to comment directly on the thread. Thank you a bunch ahead of time! -Dmitry
  You see how effortless this sounds to the journalist you are pitching? You see how they actually might want to do this? How this might actually be fun for them? Now once they answer or participate in the same discussion as you, thank them, write a blog post with their answer in it perhaps. Develop this relationship further by asking for more quotes from them for your writing on the blog. Make them interested enough to ask you what you do.  
Go the Guest Article Route in Your PR Pitch
I've been a HUGE fanatic of guest writing. I've published over 1300+ articles and most of them I've either partially ghost written or helped come up with content for them. Here is a quick example: for 3 years I used to work for a web design consulting firm in California. We needed to get clients and visibility. Here is how I did PR for them: https://www.smashingmagazine.com/author/dmitry-dragilev/ https://uxmag.com/articles/everyone-forgets-memory http://www.webdesignerdepot.com/2013/12/are-hollow-icons-harder-to-understand/ I wrote articles like these to get the visibility up. We did crazy things like deconstruct the new design of TechCrunch and publish it on the site. http://techcrunch.com/2009/11/23/techcrunch-homepage-design-zurb/ We created this page which became the go to spot for people who needed design resources. We wrote a lot of guest articles about all the little plugins on this site: http://zurb.com/playground The point is that if you write great content in your area of expertise you'll do a better job of promoting your brand in a sustainable way vs. asking press to cover the launch of your product. Instead of sending a PR pitch, show off your skills to people with these guest articles. I dive deep into this strategy in my How To Do Your Own PR video course which is part of the crazy Appsumo bundle.  
Go the Data Route
I am not going to spend too much time explaining this tactic because I think I talked this use case to death in all my blog posts and courses. I used to lead marketing at a company called Polar and in two years I grew the startup from 0 to 40M+ pageviews per month. They were later acquired by Google. I wrote about it in this TheNextWeb article. It wasn't rocket science at all, all I did is pitch journalists some great data points they should include in their articles. Here is how my PR pitch looked:
Subject: Got a poll for you: Which Foursquare logo do you prefer? Hey Chris- Made a poll for your article asking which Foursquare logo people like the best, check it, might be fun to get your readers more involved to get more to come back to the article: http://polarb.com/polls/194407 Pretty interesting data so far on it, seems like the prefer the old one? -Dmitry
I did the hard work of getting some data and opinions about the topics they were writing about. Journalists liked to include the data in their articles (this was great, I got a link!):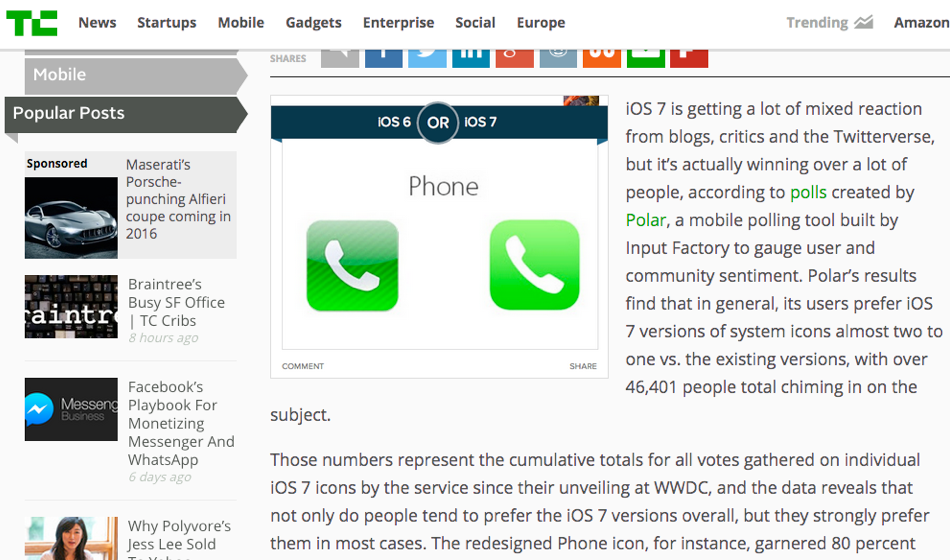 Eventually I asked them to include the polls in their articles and get their readers to participate. This is when we started getting TONS more traffic from the polls since people would click on the widget logo and come back to our site:
  The point here is not to replicate what I did word for word. Instead think through an interesting data point you can provide to journalists or influencers. Have this data become the PR pitch instead of your product.  

Dmitry's take
This is a the type of tactic that you can easily do at scale.
Use a tool like Mailshake to 1) personalize hundreds of emails all at once, 2) schedule those emails to send on your schedule, and 3) automate follow-ups if they don't reply.
I use Mailshake to automate my cold email outreach, and it's the tool I recommend.
Click below to sign up for Mailshake.
Try Mailshake Now
Go the Interview Route in Your PR Pitch
When I worked at ZURB I used email a bunch of really known people and ask them to give me a one line quote about a hot topic or a piece of breaking news. I would compile their quotes into one blog post on my site, publish it, and a few things would happen:
Every influencer who gave the quote would share and promote the article
I would PR pitch it to press and some journalists would reference quotes in my blog post
Here is an example of such a post: http://zurb.com/article/532/would-you-buy-facebook-stock-if-you-could Now I would invite and interview crazy well known people such as Kevin Hartz the founder of Eventbrite and publish the recording and transcript on my site: http://zurb.com/article/720/kevin-hartz-of-eventbrite-speaking-at-zur The press got used to listening to these interviews, I've had a lot of great guests from Pandora, Facebook, WordPress, StackOverflow, LinkedIn, etc etc. and they would pick up Kevin's interview and cover it: http://techcrunch.com/2011/07/13/eventbrite-could-file-to-go-public-as-early-as-2012/   Again, the point is not to copy what I did here word for word, but try to think of how would you attack a strategy like this one? Who would you interview? Remember you are trying to build a sustainable PR pitch strategy, not a one hit feature story.  
Go the Skyscraper Route
Brian Dean of BackLinko is a great friend and also a client of mine, I've been helping him with some PR pitch work. He popularized something called the skyscraper technique where you find the highest ranking content for your keyword, write a more thorough and up-to-date version of that same content and get everyone who linked to the original piece of content to link to your newly published one. I implemented it and in 14 days I was #2 result on Google for it. I wrote a detailed article about how I did it here but it's not rocket science, as I mentioned the PR pitch process is:
find a keyword which you want to rank for which mainly has old outdated content in front page of Google results, this keyword should be around 4K-5K searches a month. Use a keyword research tool and investigate what types of keywords your competition is ranking for, try MarketMuse to give you ideas of which keywords to go after.
write an article which is 10x better vs. the ones currently ranking for this keyword
publish the article
find out who is linking to the old pieces of content which are on the front page of Google by using ahrefs.com
reach out to the blogs and websites which are linking to the old piece of content and ask them to give feedback on your new piece of content and if they like it to link to it
you start rising through the ranks and eventually you are among the top results
Case in point, Google "growth hacking tools" and you will see my blog post right up there.

Dmitry's take
The Skyscraper Technique only works if you're reaching out to enough people. And the only way to reach out to enough people is to use a cold email outreach platform like Mailshake.
With Mailshake, you can connect with thousands of blog owners with personalized, relevant emails in hours, not weeks.
Click below to sign up for Mailshake.
Try Mailshake Now
Bonus: Steal customers from competitors
As a bonus content trick, there's a strategy that I've used to steal hundreds of customers from my larger competitors. It's not uncommon for my prospective customers to search for things like "Cision alternative" or "alternative to Meltware" or "alternative to AirPR". For such customers we built targeted pages which are optimized to appear high in Google's results for these keywords, here is how they look: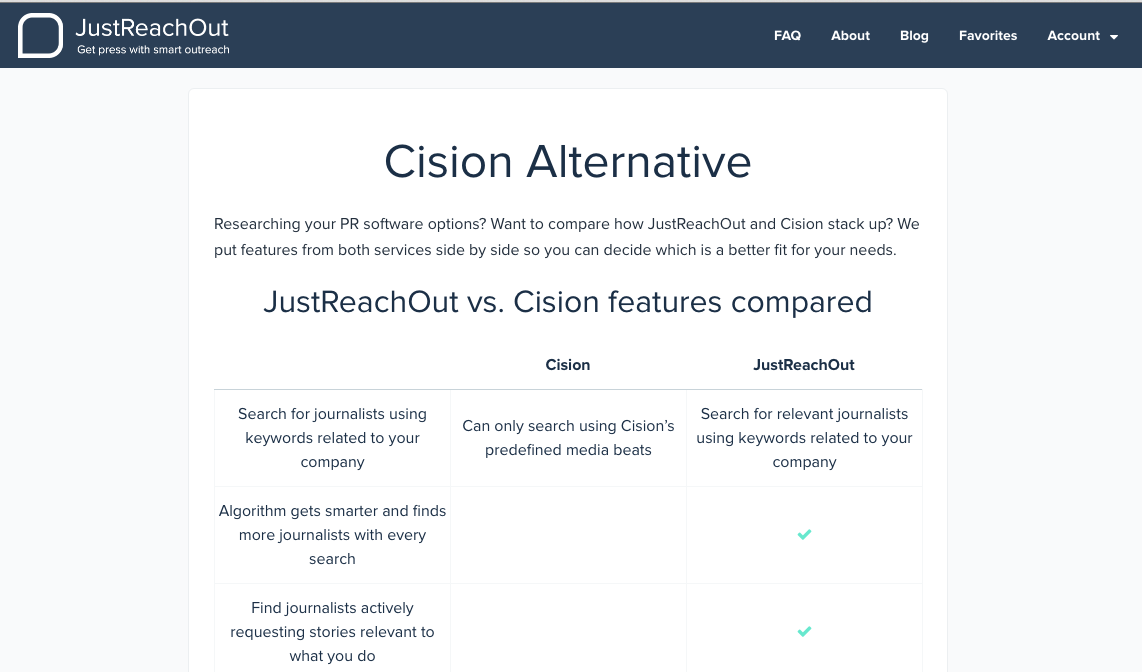 Here are the pages themselves: Cision Alternative Meltwater Alternative AirPR Alternative MuckRack Alternative So as a quick homework for you, think about who your competitors are and make a few quick "alternative to" pages on your website using a similar format as above. That is all! I can go on and on with this stuff but I think these five PR pitch angles should give you plenty to think about and experiment with. As always any questions or comments give me a shout!