In early 2015 Google launched something called Google RankBrain, it is the third most important factor in the Google ranking algorithm. If you can optimize for Google RankBrain, you have a leg up on the competition in SERPs.
Following this change in Google's algorithm I was able to gain 44.1% more organic traffic through the tips I am going to share with you in this article. Ready? Let's roll.
If you would like to jump to a specific section of the post feel free to click on the table contents below or just read along just like you normally would!
What is Google RankBrain?
It is a machine learning artificial intelligence system that helps Google process search results and provide more relevant search results for users.
You can't optimize for Google Rankbrain because Google doesn't reveal the exact way the algorithm works. There five important signals which will get you ahead of your competition. Without further ado here they are:
Freshness
RankBrain is looking for fresh, relevant content that matches a user's search query.
Imagine this scenario:
It's November 2016, and Jeff is searching for a new SLR camera.
My web page about the best SLR cameras was last updated in October 2015.
Your web page was last updated in October 2016.
Which one will RankBrain favor for freshness?
You get the idea.
How To Keep Your Content Fresh to Optimize for Google RankBrain
Refresh existing content
Review your existing content and see if there are any updates you can make to bring it up to date. When you update it, then make sure you label the page clearly:
Last Updated: dd-mm-yyyy
Look at this example…
WP Superstars is a WordPress magazine style blog that needs to keep their content updated with news of the latest themes and plugins.
Notice how they label the page header and the first line of the post, so that is quite clear to visitors when the content was last updated.

Write new content
Write new content that reflects the latest developments in your niche. Set up alerts to monitor your industry news so that you can keep abreast of innovation, change, and the most recent trends. You can use Google Trends, News, and Alerts to stay ahead:

Domain Authority
"Domain Authority is a score (on a 100-point scale) developed by Moz that predicts how well a website will rank on search engines."
It can be useful metric when comparing one domain with another to see which site is stronger and therefore more likely to rank higher in search results.
But it is not a guarantee of ranking higher because RankBrain looks at many factors. For example, compare the DA these two websites when I search for the term "DSLR cameras 2016" >>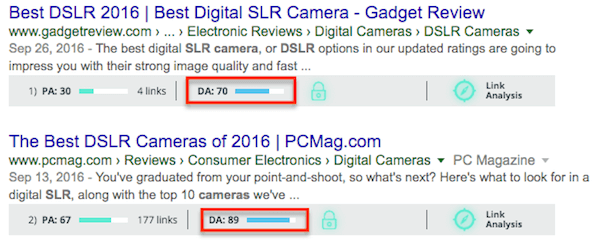 (DA should not be confused with Page Authority (PA) which measures individual pages rather than the whole domain.)
5 Tips To Increase Your Domain Authority
Domain Authority uses many factors in its calculation. Influencing DA directly is difficult. But some solid SEO tactics will help. Here are 5 tactics to increase DA to optimize for Google Rankbrain:
Get quality backlinks from authority resources
It's always preferable to get links to your site from higher ranking sites; i.e. those with a higher DA than you have. Better still are DoFollow links rather than NoFollow links, as Google will take more notice of them.
Regularly track your link profile and remove toxic backlinks
Make sure sites linking to you are healthy; i.e. they don't have any Google penalties. If you find this type of link, then you should ask the webmaster to remove it or ask Google to disavow it.
Create lots of 10x Content which attracts more link naturally
When you create 10x content, you'll find that other sites will naturally want to link to it as it's such a highly valuable resource.
Ensure that your Technical SEO is up to date
SEO divides into three categories: On-Page, Off-Page, and Technical.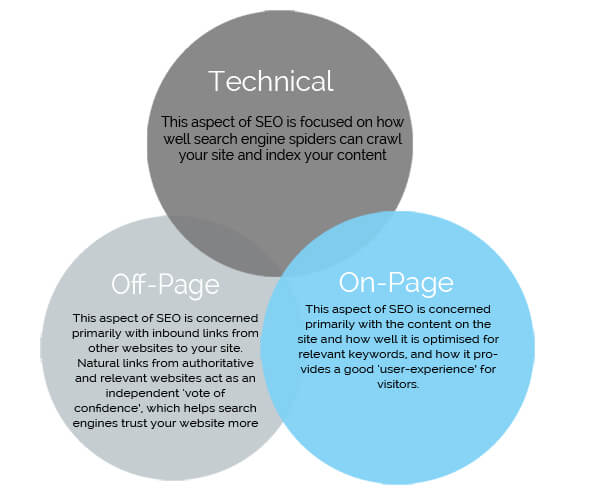 The technical aspect of SEO focuses on the non-content things like making sure your site has a sitemap so that search engine spiders can crawl and index your pages. Examples of other things to check and maintain are:
Optimizing your website page load times

Ensuring you have a mobile-friendly responsive theme

Optimizing your image file size and dimensions

Finding and fixing broken links
Build connections with industry experts/colleagues in your industry
When you build meaningful relationships with your peers and industry experts, then you can start to leverage influencer marketing. When high authority figures share and link to your content, then your domain authority will begin to rise.
Engagement
When a user visits your website you want then to stick around for as long as possible. When they like your content, then they're more likely to stay and read more. This is perfect for you. And Google takes notice too.
Google can track whether users are being satisfied by the search results it serves. If searchers visit your site and stay for a decent length of time to consume your content, then Google records that they are engaged.
Here are a few ways that you can increase user engagement to optimize for Google Rankbrain.
6 Ways To Increase User Engagement On Your Site
Click-through rates
First, you need users to click-thru from the search results. A high click-thru rate indicates that your meta title and description match the searcher's intent. Make sure your title and description are meaningful and are not cut-off by being too long. A general rule of thumb is 55 characters for your title and 155 characters for your description.
Time on site
Once a user clicks through, you want them to spend as much time on your site as possible.  Therefore, your content needs to match what you promised in the search results. If you said the post was about DSLR cameras, but in fact, it was about Compact cameras, then the user is not going to stick around.
Lower bounce rate
If you get the first two steps right, then your visitors will be more likely to click links to other content on your site. They like your style of content and they are tempted to read more. This decreases your bounce rate.
On the other hand, if they don't like what they read, then they'll most likely leave without clicking elsewhere on your site. And that increases your bounce rate.
Increase returning visits
The best way to increase the number of return visits is to build your email list. When a visitor subscribes to your mailing list then you can contact them directly next time you publish a new post. 70% of visitors never return to your site, so you need to capture them the first time.
Encourage comments
When a visitor stops to leave a comment on your blog, then you can be sure they are engaged in your content. You've made an impression with your content. But you still need to ask visitors to comment by using a Call To Action (CTA) at the end of your post.
"If you don't ask, you don't get."
Look at this example on the Ahrefs blog:



And look at how many comments they received:


You can give users a great experience on your website by using internal links. That includes links placed in the menus, the sidebars, and in your content.
Make sure new posts link back to relevant older posts. And older posts link to new posts.

Use a Related Posts or Popular Posts section to direct visitors to similar content. Here's how

Moz

do it:

>> It's all part of keeping users engaged on your site.
Related Topics
The time when we followed the rule "create one page for every keyword" is long gone. If you're still creating content like that, then stop now.
When Google introduced their Hummingbird algorithm change, they were saying:
You don't need to keep repeating your keyword over and over again. We can work out what your content is about with our semantic search.
As Dan Shewan of WordStream wrote:
"Semantic search focuses on determining what a user really means, rather than a string of keywords, and then serving relevant results."
Google is looking for content that contains the right words and phrases.
Use this to your advantage to optimize for Google Rankbrain.
2 Quick Ways To Find Related Topics
Using our example of DSLR cameras from earlier, it's quite easy to find related topics to this initial search: "DSLR Camera."
Google Search Results
At the top of the search results page Google highlights three areas (before even displaying results 1-10)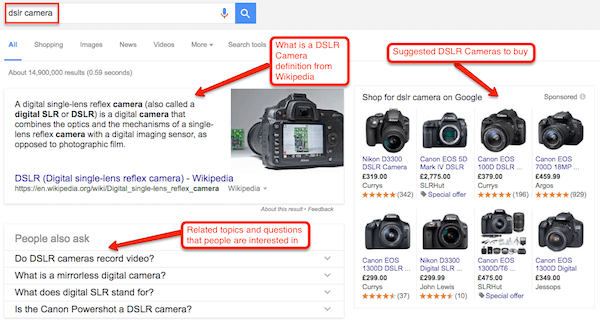 > At the foot of the search results page Google includes related searches: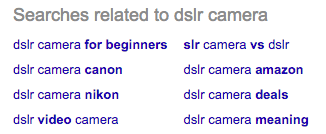 Google Keyword Planner
The keyword planner gives us two sets of results to consider that both offer related topics and phrases.
Keyword Ideas:

suggests we should consider mentioning specific brands like Nikon and Canon if we are going to write about DSLR cameras: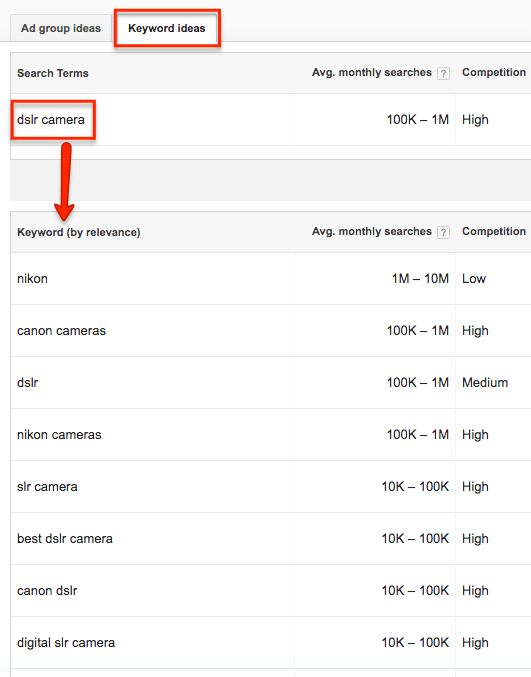 Ad group ideas

suggests lots of keyword groupings which you can drill down into: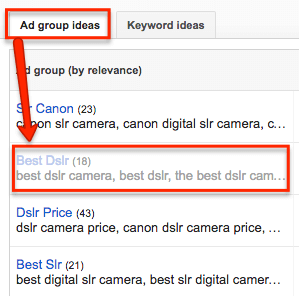 This is from the Best DSLR group: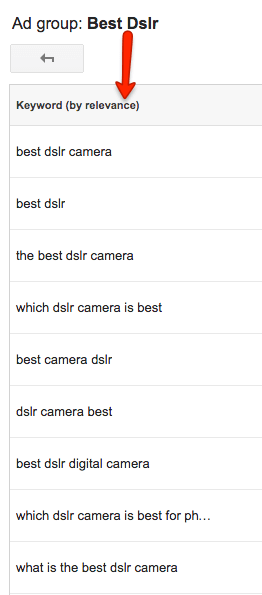 You can see that there are many variations of words and phrases that you could cover in a search related to DSLR camera. You can also use the above tactics to find low competition niches.
So, how do you write your content to ensure that readers and Google are satisfied?
Write For Topics Not Keywords
Ashley Faulkes from Mad Lemmings sums it up perfectly in his post How To Write The Perfect SEO Content:
Write your content for the reader based on a topic (which is a keyword you have researched).

Focus on that main topic and add variations, synonyms, related words throughout the content (see the LSI keywords section later for more detail on this).

Just write naturally and 99% of the work will be done naturally. However, it pays to always do keyword research to find the kinds of words people actually use.
On-page SEO is often overlooked when you'try trying to optimize for Google Rankbrain, so pay attention.
Content Depth
Google is looking for substantive content. It wants a topic to be covered thoroughly, not skimmed over.
Back to the DSLR camera example…
If you wrote a short post with a list of the Top 10 DSLR Cameras with no details, then Google won't be too interested in ranking it.
Think about it…
What value would that content offer to a reader who was searching for DSLR cameras?
All they would get is a list. They would still have to research the cameras further. And to do that they would have to go back to the Google search results and click another link.
But, if you write a detailed post that lists the Top 10 DSLR Cameras and reviews the pros and cons for each one, and links internally to more related content, then you'll be providing more value to your visitors.
That's the kind of content that Google is looking for. Now they can display your content in the search results because it is substantive. 
Use this to your advantage to optimize for Google Rankbrain for creating in-depth content.
How To Create 10x Content
The key to optimize for Google RankBrain is to make your content highly valuable. It's what Rand Fishkin from Moz calls 10x Content.
"It refers to content that is 10 times better than the best result that can currently be found in the search results for a given keyword phrase or topic. You can learn more about How to Create 10X Content here."
To summarize, make sure that your 10x Content:
Solves a problem or answers a question by providing comprehensive, accurate, exceptional information or resources.

Is high-quality, trustworthy, useful, interesting, and remarkable.

Provides a positive user experience via the user interface, layout, fonts, and images.
Important to note:
All this stuff takes time, a lot of time! Prioritizing your tasks and managing your time is crucial for achieving results quick.
Do all of this above and you'll be easily able to optimize for Google Rankbrain!