What is a Media List?
A media list is a document with details of specific journalists, bloggers, writers, editors and influencers who write about your niche or area of expertise. The list usually includes the name of the journalist, designation, email address, name of publication they work for, and a link to their recent article.
What I think:
A media list is usually lame PR speak to spam a TON of journalists with one single message in the hopes of getting a response from someone (anyone?).
You don't want to do this. This is a waste of your time, money, and effort.
You don't need to do this either.
Building an effective media list is an important step in gaining excellent press.
But that is only half the story.
The other half (the more crucial half) is about starting conversations and building relationships with your media contacts.
In this post, I'll show you exactly how to…
DIY an effective media list from scratch.
Start conversations and build relationships with each contact on your media list so that you get the press you deserve.
Media List Example and Templates
This is an example of a typical media list: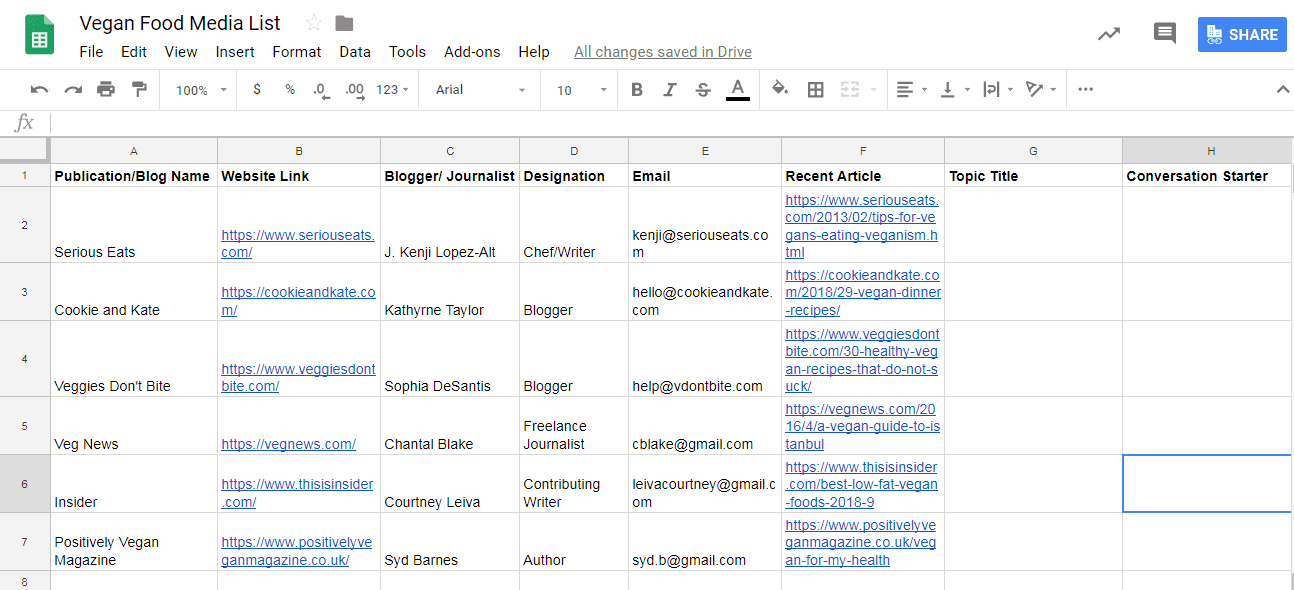 Here are two media list templates that you can download.
These do not have real data or contact details but they'll give you an idea of what type of information you need to build a good media list.
Media list example template 1: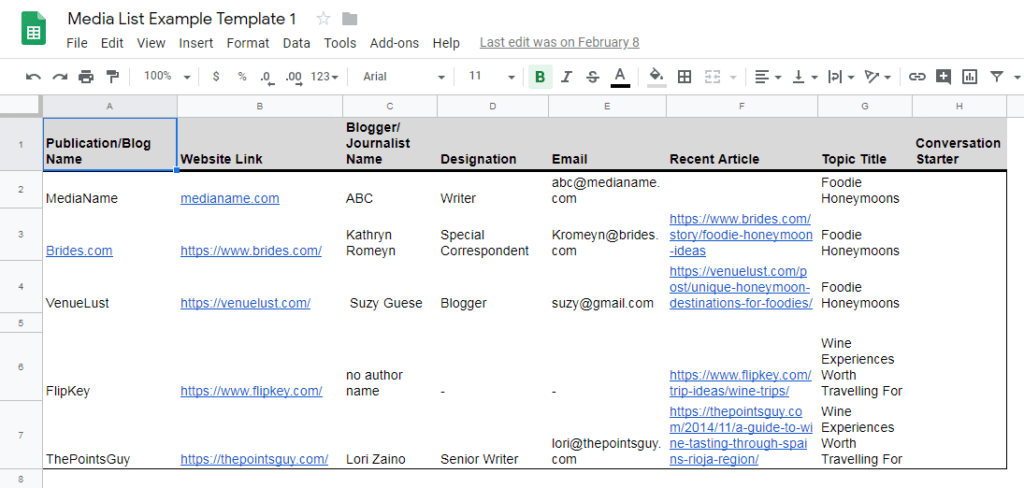 Download MediaList Template 1
Media list example template 2: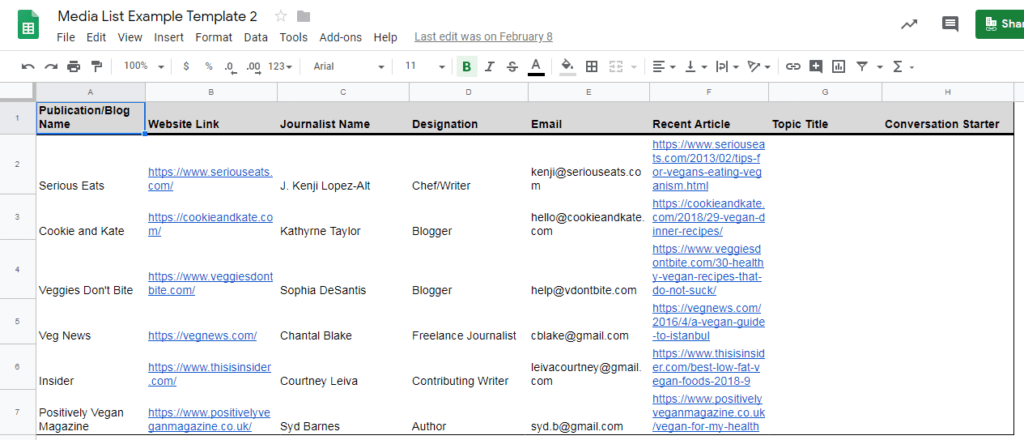 Download MediaList Template 2
How to Build That Perfect Media List?
Here's a 3 step process to building that perfect media list:
Step 1: Find Your Audience
To build an effective media list, you must first know where your audience hangs out – which blogs and publications they read, which podcasts they listen to, which YouTube channels they watch, and who they follow on social media.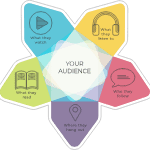 Image credit: Rand Fishkin, Sparktoro
With this insight, you'll have a clearer picture of which journalists or influencers to target.
One sure shot way to ensure coverage is to send your press release email to a targeted audience.
How do you do that?
Let's say you have a booking platform for local food and drink tasting experiences, then your audience would be travellers, honeymooners, bachelor parties, etc.
Now:
Create a spreadsheet with a list of potential story titles and ideas that are relevant to your industry.
In this case, some of the potential titles that would interest your audience might be:
Top Foodie Destinations in Western Europe
Wine Experiences Worth Travelling For
Foodie Honeymoons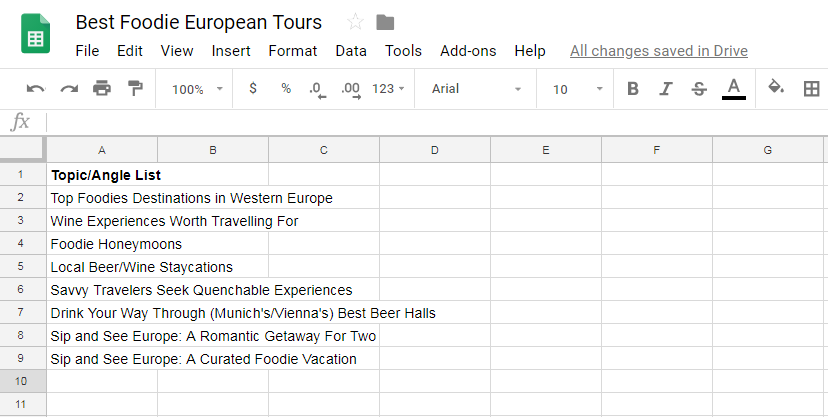 Now take a story angle from this list and search a related term on JustReachOut or any search engine to find relevant newspapers, magazines, and blogs that cover similar topics.
The publications listed in the results is where your audience usually congregates.
For example, if you take 'Foodie Honeymoons' and put it in Google, it will give you a list of articles that have been published on this topic on various blogs and online publications: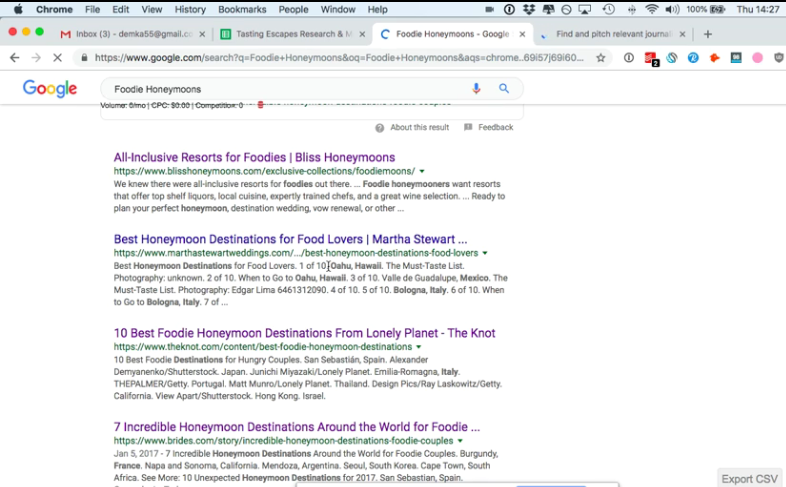 Using JustReachOut in this step makes it simple, as you can contact your target journalists directly from within the tool.
Step 2: Research Relevant Journalists
The next step is to click on the articles that appear on the first few pages of your search to find names of journalists and bloggers who regularly write about your industry, product, and/or service. Those who write on topics that are tied to your product or story (or another trending story in the news that you're somehow connected to) will be the most relevant.
Remember:
When going through the articles and publications, check the author's name to see if it is a real person you can connect with.
Sometimes blogs do not give author names for articles written by staff members.
If you can't find the name of the writer, it's probably better to avoid that specific publication.
However, if the publication is relevant to your business or shows potential as a platform where you could contribute, don't get discouraged if the article does not show the actual name of the author. Poke around the website for other posts to find another contributor you can engage with.
Quick tip:
At this stage, target mid-tier blogs and publications before going after the big guns like NYT, CNN or National Geographic.
I'm not saying you shouldn't try to get coverage in top-tier publications, but you want to establish some credibility with smaller media outlets before going up the rung.
Step 3: Make Your List of Target Journalists
In your spreadsheet, create a new tab and call it something like 'Media List'.
The Media List will have the following columns: the name of publication, website link, name of the journalist/blogger, designation, email, a link to the relevant article related to your topic, your topic title, and a conversation starter.
Something like this: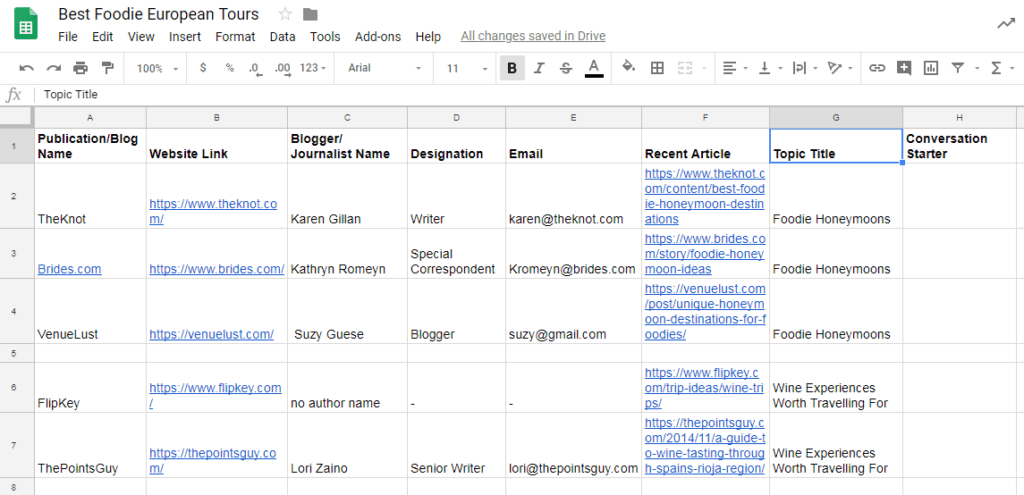 Note: The topic title is from the list of topics you created earlier. Each relevant article that you select for a journalist must be categorized under one topic title.
You can also add columns for Twitter handle and areas of interest for the journalist. You will use these pieces of information later to forge relationships with the journalists.
As you read each article from your Google search results in Step 2, go through this checklist:
Is the post written by a real person you can connect with?
Is the author still writing for this publication?
Is the readership of the blog or publication similar to your target demographic?
Can you find a unique, insightful point to make about this article that can be used as a conversation starter?
If the article checks all these boxes, add them to the Media List tab in your spreadsheet. Also fill out the other columns – publication name, website link, journalist name, email, and topic title.
Leave the Conversation Starter column blank for now.
That's it.
You have a near complete media list.
You must be wondering:
How do I Use the Media List to Get Press?
Even if you have a big list of names and contact details of all the relevant journalists and influencers who write about your topic, you still need to make your pitch feel personal.
Just because you are targeting them with your outreach efforts does not mean you're on their radar.
Are they aware of you and your business?
Are they interested in your story?
Are they excited about sharing your story with their readers?
If that is not the case, a list of names and email addresses will do you no good.
What you need to do is connect on a more personal level with the journalists on your list. They should have heard from you at least once before you send them a press release or a story pitch.
How do you build a relationship with a journalist?
By starting a conversation. This is where the Conversation Starter column comes into play. All this is making sense now, isn't it?
This is crucial:
Initiate conversations with relevant journalists on your list weeks before you plan the launch date of your product or service.
Carry on these conversations until you have built a solid relationship with that journalist.
Then when you need media coverage, you'll be able to approach these journalists not as a random stranger, but rather as an acquaintance who wants to share a story with their audience.
No need to send a cold email pitch.
This is exactly what I did when I launched JustReachOut.
What's more?
I have used the same technique to help over 5,000 businesses pitch media and get press.
It will take about 3-6 months to start conversations and build a solid relationship with a journalist.
But the payoff is much greater than last-minute attempts at outreach.
You can also use some cool press outreach tools from 25 Best PR Tools: The Complete List (2019 Update).
How Do I Start A Conversation?
Remember the Conversation Starter column in your media list.
This is where we learn how to fill it.
Here's what you need to do:
Closely read each article from your research.
As you read the articles, try to find a mistake, something that is missing, or even a weak point in each post (this could be outdated or omitted information, poor design, typos, etc.) that could be used to strike a conversation.
Here are some things you should look for:
Facts that are outdated
Can you provide updated facts?
Missing information
Could you suggest a follow up story for a new article?
Are there too many glaring typos in the post?
Add these 'conversation starters' to your Media List tab in the spreadsheet.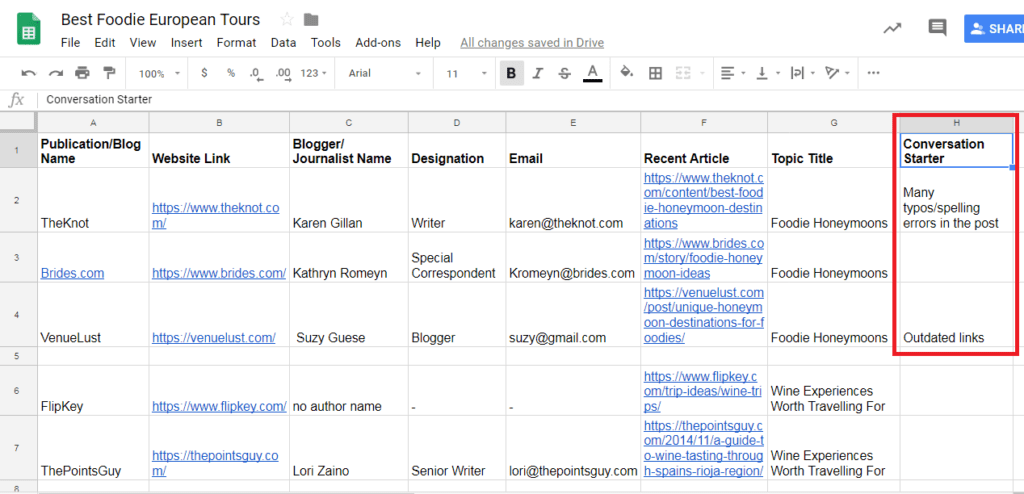 Now for the aha moment:
You will use these conversation starters to send a warm email to your target journalist before you pitch them a story.
Journalists love to get story pitches over email. This process of 'pitching' information about your product or service to journalists is also known as press outreach.
Here's the actual pitch email I sent to an editor at Lifehacker:

Here's an email I sent to Darrell Etherington of TechCrunch:

Three Specific Conversation Starter Tactics
Tactic 1: Use Quora
Using Quora as a tactic to start conversations with journalists is effective and easy.
Here's what you do:
Go to Quora and find relevant questions in your niche.
Answer the question and refer to the link of the weak blog post along with additional information or insight that strengthens the post without making the writer come across as stupid.
Next, email the author of the post, mentioning your mention of her in the Quora answer.
This tactic shows the journalist that you care enough about their work to not only read it and improve upon it, but to also promote it on a platform you don't even own—enabling you to form a long-standing relationship.
Tactic 2: Use Compliments
Send an email complimenting the journalist on a recent post. This is a great tactic as email is one form of interaction journalists are always ready to engage with.
The best part?
You don't need to specifically find stories associated with your niche to compliment them.
Do it using an article that your target journalist wrote recently or even for an award that they or their publication won.
Here's an example email format:
Hey John,
Just saw your article on [marketing automation]. Loved the point you made about how [less than 10% of companies are using autoresponders based on website behavior effectively].
Looking forward to your next article.
Dmitry
Tactic 3: Share Relevant Content
Share relevant articles, reports, videos, white papers, or any other content related to an article a journalist wrote recently to start a discussion.
Do not send any content related to your business, or anything that you have created.
Make sure you link to the article you're mentioning. Providing immediate context to what you're referring to is always a good idea.

Who Are Your Other Influencers?
Your target influencers need not be restricted to journalists or YouTube celebrities.
They could be founders, bloggers, investors, and even Hollywood actors.
In order to find all your influencers, you need to first define your goal.
Then define your target audience.
For example, when I started JRO, my goal was to sell over 1000 subscriptions to the software.
JRO's target audience: Startups, small business that need effective press outreach on a budget.
So, when I started looking for influencers in my space, I built a relationship with Matt Mullenweg, founder of WordPress because he has connections to a lot of startups who might purchase my PR outreach service.
This was very different from building a relationship with Tim Ferris who could potentially introduce me to 2-3 people who would have direct connections with my prospective customers.
I also initiated conversations and built relationships with Paul Graham (an investor) and Ashton Kutcher – two very different influencers but equally important for my business.
You may be wondering why a Hollywood actor?
Ashton is deeply connected with the startup community and could potentially introduce me to many startups.
So you see:
An influencer could be anyone who has an audience who might become your customer.
Over to You
Building a media list is easy. The complicated part is when you need to make solid first impressions with journalists so that you get sustainable coverage.
But if you consider the payoff, it's not that much effort either because isn't all of what's good in humanity based on our ability to relate well to others?
Simply use the processes outlined in this post and you will be off to a great start toward having an effective media list and soon, some amazing press opportunities.