A week ago I got the following email from a friend:
Hey Dmitry-

Hope the weather is getting warmer over there in Boston and you're doing well. Have a question for you, we're trying to get our blog crankin' and are in need of figuring out how to create awesome content that engages with readers and gets us more traffic.

We have tons of smart folks working here, and no doubt got awesome stuff to share, but we're trying to pick topics/titles/format for blog posts which will become popular and go viral. There are tons of info about best titles, format, etc out there but it's hard to figure out topics. Any advice would be appreciated.

Cheers,

-A
I get asked this by a lot of startups quite frequently so instead of replying in an email I decided to write my answer in a blog post. Believe it or not, figuring out what content will be popular and engage your readers is actually not that hard, most of the work has been done for you by others already. What I tend to do is look at what has already worked for others and try to replicate it. Here are 6 ways I go about it:
1. BuzzSumo
Let me just say: "I love BuzzSumo". A friend shared it with me about two months ago and I have been using it ever since. Let's pretend I want to write a blog post about growth hacking, I type in the term into the tool and it shows me the most shared blog posts on this topic.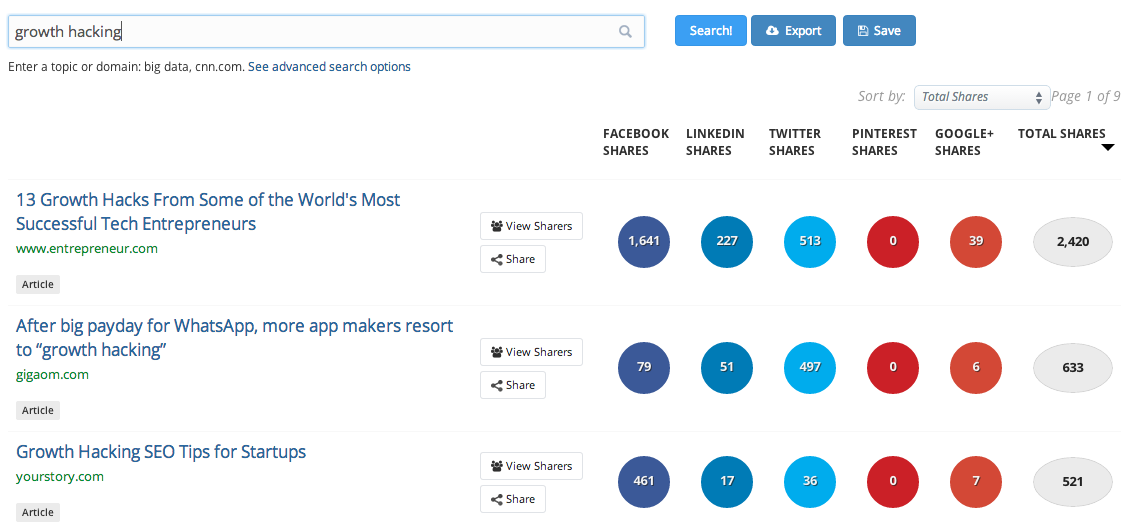 As mentioned I'm in love with this tool. It just kicks ass at helping people figure out what type of articles people share most and how you can replicate the same format, content, etc. They actually just wrote a post on Why Content Goes Viral: What Analyzing 100 Million Articles Taught Us, great read!

2. Reddit, HackerNews and GrowthHackers.com
These three sites are goldmines in terms of figuring out what type of title and content people engage with. Keep in mind that each of these sites has a somewhat different audience. HackerNews audience are a bunch of whiny entrepreneurs, developers, marketers who love free stuff. GrowthHackers audience is pretty obvious. Reddit has a section for any topic so the audience is segmented by subreddits.
Lets look at Reddit as an example. Lets say I'd like to write an article which attracts startups and entrepreneurs, the subreddit I would check out is Entrepreneur subreddit. Just by taking a look at the top posts in this subreddit I can start to get an idea of which types of articles engage with this audience the most and get upvoted to the top:

From there I can take a look at the discussions on each article to see what people are saying about it and finally click over to the article and read it to get a feel for the format, tone, voice. I love to use Reddit this way, it gives you great ideas for content which becomes popular. I use HackerNews and Growthhackers.com in the same way.
3. Wikipedia.com
A good friend back on the west coast taught me this trick and I have used it ever since. Let's say I'm writing an article about growth hacking and I want to know which topics, titles, content I should write about.
I go to http://en.wikipedia.org/wiki/Growth_hacking and take a look at the References section at the very end of the page. These are the articles that have become so popular that they are listed as references in Wikipedia defining the very topic I'm writing about, if these articles are not epic content which has become popular I'm not sure what is! Wikipedia scrutinizes every word of these entries, so these articles are gold mine examples of the type of content I should be writing on this topic.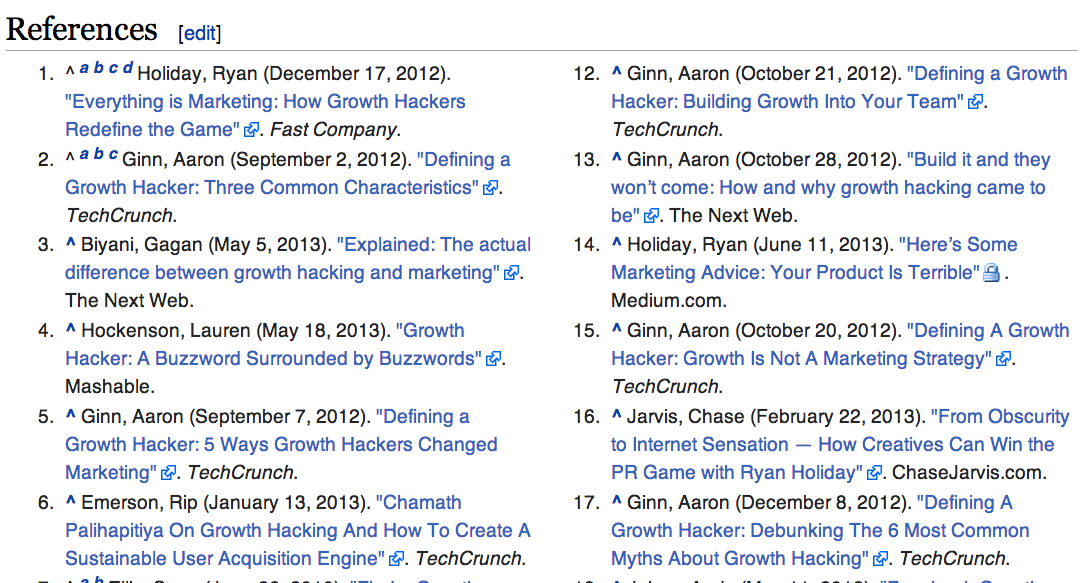 So again, I can look through these articles, figure out what to write based on these titles, format of the post, etc. You can do this for any term or topic of course, Wikipedia has a page for everything!
4. Backlinks Tools
Taking a look at what your competition is doing in terms of popular content is a legit way to figure out what to write on your own blog. If the content worked for your competition chances are it will work for you as well. The interesting part about Backlink Tools is that they tell you which other blog posts and websites have linked to blog posts on your competitors blog, this will give you more ideas about the blog posts you should be writing on your own blog about this topic.
Since we're talking about marketing, lets use KISSMetrics blog as an example. We want to know which blog posts are linked to by outside blogs and publications? We fire up Open Site Explorer and type in the URL for KISSMetrics Blog. Now lets take a look all the inbound links from other blogs to KISSmetrics Blog posts: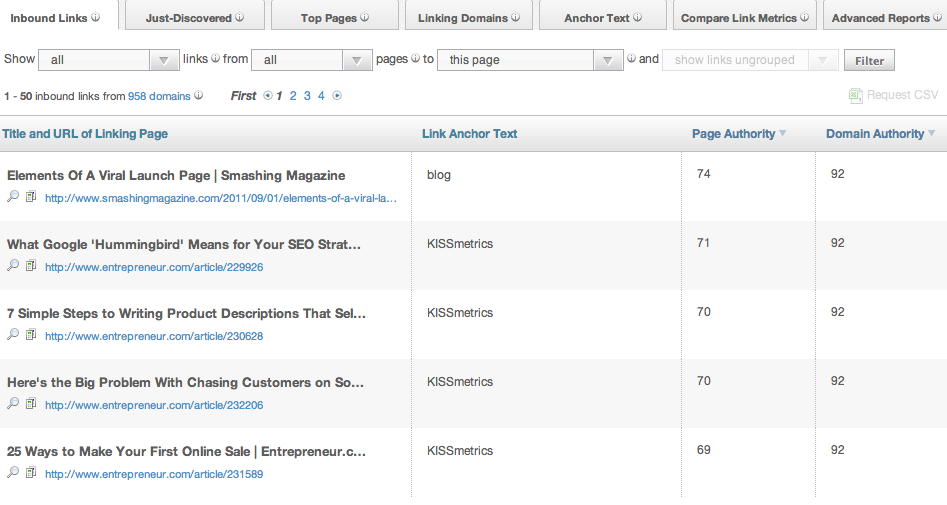 6. Quora
People always forget Quora but it's absolutely crucial in terms of figuring out what content people want to read and find engaging. What questions are people asking about about Quora in your topic?
Lets say I'd like to check the topic of "growth hacking", I type in the term into Quora search and get a lot of questions to choose from, this one captures my attention right away: Growth Hacking: What are the best books or web resources on Growth Hacking and User Acquisition?