Back about a year ago Kevin Leu wrote a an article on VentureBeat titled 5 reasons you'll regret hiring a PR firm for your startup sharing his personal frustrations with hiring a PR firm. As I read that post I could not help but smile since in my 8 years working at startups I found PR Firms just as disappointing as Kevin did. Most of the times PR Firms:
Don't know how to tell a story.
Rip you off.
Act like they know everything.
Take more credit than they deserve.
Instead of using PR Firms I urge startups to take control of their own PR, this way startups build their own relationships with reporters, the interaction is much more genuine, and startups control the message and information communicated to the reporter. In the long run this will be much more valuable to them. Here is how to do it:
1. Search for a relevant reporter
The first thing is to find a reporter who is interested in what you are pitching. Go to JustReachOut.io and enter a topic you'd like to search recent news about. The idea is that you are looking for reporters who have written something related to your topic. In my case I enter "Amazon Drones":

2. Compose an Email Pitch
After you click "reach out" the tool helps you write an email pitch, it asks you five questions to really make sure this reporter is interested in what you're trying to pitch them. After you're done answering the questions it will generate an email pitch draft for you. The tool will ask you the following questions:

3. Reach Out to the Reporter
Finally the tool gives you an email pitch draft and email contact info for the reporter. You can modify this pitch, copy paste it into Gmail or whatever you use for your email and send it away.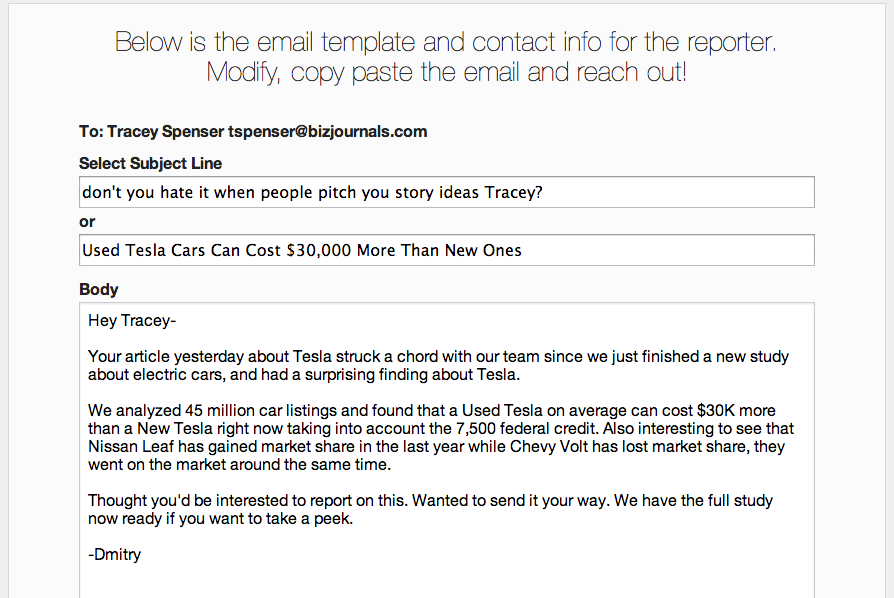 Click here: My video course with a Guide to Getting Free Press for Your Startup