To be honest, when I first received an email from the author of the post you'll read today I thought I won't be able to learn anything from him. When Dan Faggella first reached out to me I saw that he was a karate instructor who built a $40K/mo business out of selling instructional videos which was miles away from my online content marketing day to day life.
Little did I know the guy is an email marketing and marketing automation machine!
Dan currently runs CLVboost, a boutique email marketing consultancy helping startups, brick-and-mortars and eCommerce businesses navigate the crazy world of email marketing.
In this article you'll learn:
white-hat guest posting strategy Dan used to grow his business
process and strategy behind building an email list and selling products to the subscribers
how to write good emails to get people to help you grow your business
Without further ado here is Dan Faggella, enjoy!
-Dmitry
——-
Starting my first online business was more a necessity than anything else. Running a small physical martial arts gym in an 8,000-person town in Rhode Island, our roof partially caved in due to a massive snow-storm. With a flooded building and a new heap of expenses, I realized I should probably have another income stream. Enter online marketing.
With a national championship under my belt and a few seminars already filmed, I decided to teach my martial arts skills online at www.ScienceofSkill.com. Fourteen months of scrapping, boot-strapping, and learning all my lessons the hard way, I had my first $40,000 month online, and never looked back.
Though the journey wasn't easy and I tried more marketing strategies than I'd like to admit, there were three core tactics that helped me scale more than anything else – and they're by no means limited to the martial arts niche.
In this brief article, I'll dive into all three and reveal how they might apply to your online marketing efforts.
1) White-Hat Guest Posting the Right Way
When I first started, I didn't have the budget for paid traffic (Facebook advertising, etc…) and I didn't know what to do with it anyway. I also lacked an email list to work with a joint venture partner for cross promotion.
So, to gain some traction for my website, I began to guest post on other blogs. However, while that sounds easy, it's not as simple as just dropping an email to a notable blog and saying "Hi! Here are my credentials and I'd like to guest blog on your site."
Instead, I made sure I had something to bring to the table that would make my content desirable for the five or six blog sites I began targeting. In my case, I interviewed some of the top experts and Black Belts in the world of martial arts and used that unique content as the bait in my guest blog pitch. That allowed me to contact influential blogs and get articles on them quickly. Here's the template I used, which you can model for your own niche and industry quickly.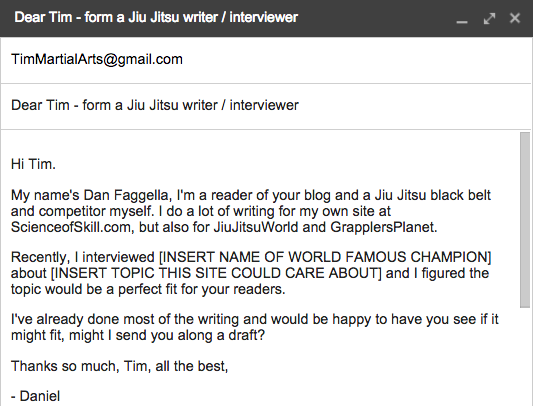 At the time I was writing for four or five websites, I was able to implement the strategy I was waiting for.
Now I could offer potential affiliates (people with big Facebook pages or email lists in my niche) a "you-scratch-my-back, I'll-scratch-yours" proposition. Even though at this time I didn't have much of an email list (the most effective and direct route for selling information products online, such as martial arts courses), I'd ask to interview them, and then let them know I'd be happy to write about them and link back to them from four or five different blogs if they were able to send a few emails to some of my email capture pages (like those I linked to above).
What I didn't do was interview random Joe Shmoe martial arts folk and promise them featured articles in online publications. These online publications want great content from respected teachers, and those are the folks I aimed to speak with and work out my affiliate arrangement with. After our interview, they'd agree to send, say, 20,000 emails to my landing pages, and in turn I'd write five articles about them on various sites in our niche. They got the win with the "SEO juice" from links and the credibility of being featured, and I got a fresh batch of subscribers who might be interested in my products.
Here's how the subscriber numbers break down, on average:
1 – Affiliate sends 20,000 emails
2 – 10% open rate means 2,000 see the message
3 – 25% click through rate means 500 people land on the page
4 – 50% conversion rate on page means 250 people opt in
5 – 5% fake email addresses means 238 actual leads
By doing all this, I managed to leverage blog authorship into a tool to encourage "big-name" affiliates to send tons of traffic to my squeeze pages, growing my list immensely. All this was done not in the traditional way of sending reciprocal emails for them, but by leveraging my reach via blogs – which helped to build my own link profile and traffic at the same time.
This simple strategy was essential in getting my email list from 500 to 10,000 in a matter of months in the martial arts niche. By linking to my own site and relevant blogs while writing about my interviewees, I was also able to get my main blog at www.Scienceofskill.com to over 10,000 unique visitors per month.
To sum up, I use blog posts like a "hose" of traffic. I start off with posts that deliver unique and valuable content and point that "hose" of traffic and attention to my own sites: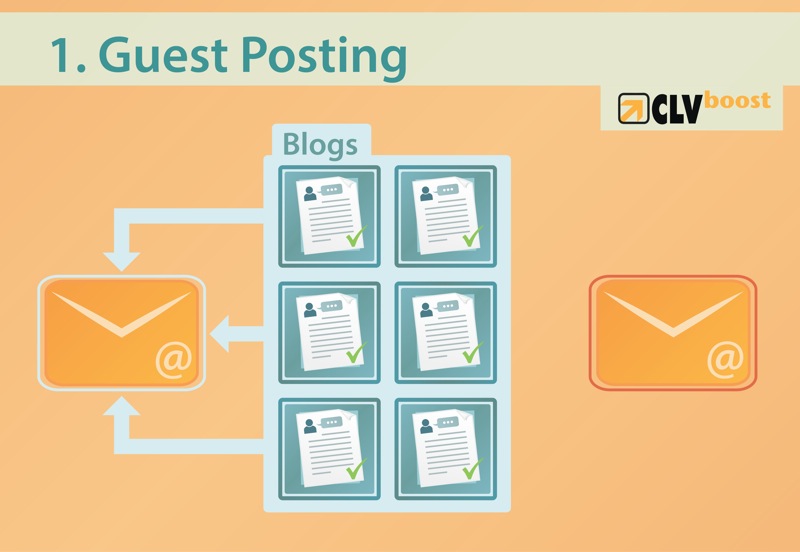 …but all those email subscribers would have been completely worthless had it not been for this next tactic.
2) Persistent Marketing Automation Email Sequences
So now, having driven traffic to squeeze pages, my goal was to turn subscribers into dollars – by educating them and presenting them with programs that might be of interest to them.
There are many software programs that allow for "auto-responder" emails, but the program I use primarily is called InfusionSoft. Other programs that can allows you to use the same strategies you'll read about here include ActiveCampaign, Ontraport, and HubSpot – with ActiveCampaign as the least expensive option.
So how many emails should I send in this "auto-responder"? In determining how to establish my email sequences, I decided to model 8-figure information marketing businesses. www.SurvivalLive.com is run by Ryan Deiss and his company Digital Marketer, and www.SilvaLifeSystem.com is run by Vishen Lakhiani's company Mindvalley. Both of these companies are grossing well over $10,000,000 per year in sales, and so I read their emails carefully and use their strategies to build my own email sequence.
To my initial surprise, these highly successful digital marketing experts weren't just sending six or eight emails, or one or two emails per month. SurvivalLife, SilvaLiveSystem, and essentially all of the other successful email marketing powerhouses were sending daily emails (sometimes more than one email per day) for a month or longer.
Vishen's emails at SilvaLifeSystem started off with three to four educational emails, linking to informative and helpful blog posts that have occasional mentions of the complete, $127.00 Silva Life System program, but didn't necessarily "push" for it. Then, emails five and six were more about the course itself, with links that weren't encouraging me to read or watch a video, but to purchase the program itself. These were followed by more educational emails (three or four of them), and then additional overt promotions.
I started calling this the "roller coaster" of education-to-promotional email sequences, and began using the same strategies for offering my martial arts products.
The key for me here was to base the presentation of my education and offers to the topics that truly mattered to my customers. I contacted my email subscribers (some by phone, others through polls / direct messages) and asked them to tell me the number one benefit they were looking for from my courses, and the number one objection they might have to purchasing right away.
Want to get serious about writing good email copy (or copy in general)? Call a dozen buyers and talk to them about what they liked about your product / sales process, what they didn't like, and what they'd like to see from you in the future. That's something I learned from Lean Startup, and it's homework that paid off tenfold in the ROI of my email copywriting.
Once I had consensus on these two factors (the number one benefit, and the number one objection), I constructed my email sequences around heightening the most important benefits first, and overcoming the most important objections.
I'd warn anyone reading this article to "take a stab" at an email sequence without truly knowing your customers and what their cares are – take the time to poll them and call them. I've written about this topic in depth, and it's important to start off on right foot, after all, these are emails that nearly all of your prospects will read… and unlike your landing page, this email sequence will be difficult to constantly split-test. So do your best to nail it on the first go without playing guessing games about what prospects care about.
I eventually extended out my "roller coaster" of educational and promotional content to be over a month of daily email messages (just like the 8-figure businesses were doing), and began consistently converting 2-5% of my online subscribers to monthly membership programs for martial arts training.
Below is an image of what a "normal" email follow-up sequence might look like: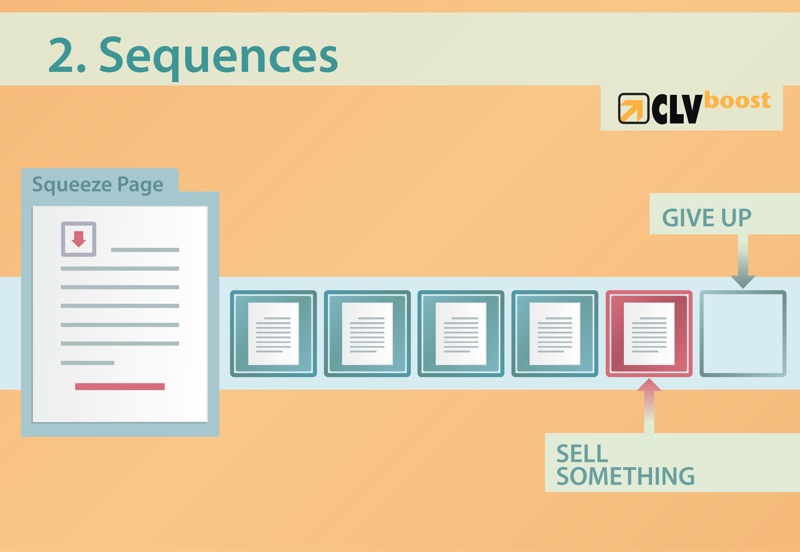 Not to mention, by rotating through various "interest" segments (and occasionally "weight" segments and others), I'm able to send out videos and articles specifically tailored to what my individual readers care about – which helps make their experience with my company not just a "blast" of generic messaging. These relationships with real martial artists around the world is ultimately what makes our business function – and email builds relationship first, sales second.
There's really no magic formula for success in internet marketing, but the fundamentals that helped me bootstrap are likely to be tactics that you and your team could use as well. I'm interested to see how you apply these ideas, and feel free to reach out with any questions.
All the best, and happy marketing!
Click here to download Dan's marketing strategy PDF.